Home
Talk

4
2,185pages on
this wiki

The Heart of a Warrior  is the third and final book in the Ravenpaw's Path arc.
Starting right after the previous book,
Ravenpaw
and
Barley
head back to their barn with
Firestar
and a
ThunderClan
patrol. They had asked for help from ThunderClan to drive off
BloodClan
cats threatening the two barn cats. But even with ThunderClan's help, will Barley and Ravenpaw be able to drive off BloodClan's attacks? Or will Barley be driven away from his home by his brothers once again?
Snakerocks
The
Snakerocks
are a pile of rocks where
adders
live. They are located in the Old Territories.
The rocks are a good place to find certain herbs. Prey usually stays away from the rocks, due to the fact that adders live in the rocks.
It is said that one huge adder named Mouthclaw used to reside on the rocks. A brave LionClan warrior named Sunpelt fought with Mouthclaw for so long that Mouthclaw was physically exhausted. She told Sunpelt that she'd grant him one wish. Sunpelt wished that she was no bigger than a cat's tail. Smoke filled the clearing and when it cleared Mouthclaw was a thousand writhing snakes, each no bigger than a cat' tail.
Brightspirit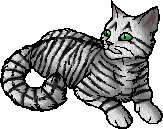 Brightspirit
is a silver tabby she-cat with dazzling green eyes. She is a
SkyClan
cat
and her parents are
Shiningheart
and
Braveheart
.
As the StarClan cats Bluestar and Whitestorm discussion the sickness in ThunderClan with Jaypaw Brightspirit appears with her parents. They are treated with respect by Bluestar. Brightspirit tells Jaypaw to seek the wind, adding that it holds what he needed. Jaypaw is confused, but accepts what she says. He also notices that Brightspirit is unlike any other StarClan cat.
Later, at Jaypaw's medicine cat ceremony Brightspirit appears, saying that she's very proud of Jaypaw. Jaypaw thanks her and she tells him that she once thought that she would become a medicine cat, but that StarClan had other plans for her.
Brightspirit again appears to Jaypaw when he is arguing with his siblings about the stick. She tells him not to fight and that the only way the Clans could survive was to share prey. Later, she tells Jaypaw that she's proud of him for sharing his prey.
Brightspirit is named for Emmy Grace Cherry, a dedicated Warriors fan who passed on after a tornado hit her hometown.

Tui Sutherland
Tui Sutherland
is one of the authors of the
Warriors
books who writes alongside with
Kate Cary
,
Cherith Baldry
, and
Victoria Holmes
under the pen name
Erin Hunter
. Tui wrote
Secrets of the Clans.
Tui was named after a noisy New Zealand bird, and was born in Venezuela, in the year 1978. After graduating college, she became an editor in New York, and later on became a writer. She has worked under many pseudonyms, and generally writes children's books. She appeared on the gameshow Jeopardy! where she won on her first and second episodes. On her third episode, she came in second. Tui currently resides in Boston, Massachusetts.