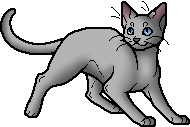 No higher resolution available.
Appears on these pages

of
Boulderfur is a large pale gray tom.

Siggies I've made for other users Posokichi For Posokichi StoneyAwesome For Stoney...

PCA Main Page| Tutorials| Discussion Page| Approval Page| Tweak Page| Tweak Nominations
See full list >
File history
Click on a date/time to view the file as it appeared at that time.
Date/Time
Thumbnail
Dimensions
User
Comment
current
17:39, October 19, 2014
139 × 134

(8 KB)

Notquiterocketwildbokan (Talk | contribs)
19:23, October 18, 2014
139 × 134

(8 KB)

Notquiterocketwildbokan (Talk | contribs)
19:51, October 13, 2014
139 × 134

(8 KB)

Notquiterocketwildbokan (Talk | contribs)
Tweaked
00:09, January 18, 2012
139 × 134

(8 KB)

CinderxLion (Talk | contribs)
02:52, January 17, 2012
139 × 134

(7 KB)

CinderxLion (Talk | contribs)
02:51, January 17, 2012
139 × 134

(7 KB)

CinderxLion (Talk | contribs)
00:28, January 17, 2012
139 × 134

(7 KB)

CinderxLion (Talk | contribs)
00:26, January 17, 2012
139 × 134

(7 KB)

CinderxLion (Talk | contribs)
23:10, January 16, 2012
139 × 134

(8 KB)

CinderxLion (Talk | contribs)
22:22, January 15, 2012
139 × 134

(8 KB)

CinderxLion (Talk | contribs)
22:03, January 11, 2012
139 × 134

(8 KB)

CinderxLion (Talk | contribs)
00:58, January 11, 2012
139 × 134

(7 KB)

CinderxLion (Talk | contribs)
00:37, January 11, 2012
139 × 134

(7 KB)

CinderxLion (Talk | contribs)
20:56, January 10, 2012
139 × 134

(7 KB)

CinderxLion (Talk | contribs)
20:55, January 10, 2012
139 × 134

(7 KB)

CinderxLion (Talk | contribs)
20:49, January 9, 2012
139 × 134

(9 KB)

CinderxLion (Talk | contribs)
19:57, January 8, 2012
139 × 134

(9 KB)

CinderxLion (Talk | contribs)
19:42, January 8, 2012
139 × 134

(9 KB)

CinderxLion (Talk | contribs)
19:32, January 8, 2012
139 × 134

(9 KB)

CinderxLion (Talk | contribs)
03:24, January 7, 2012
139 × 134

(6 KB)

CinderxLion (Talk | contribs)
00:19, January 7, 2012
139 × 134

(6 KB)

CinderxLion (Talk | contribs)
00:18, January 7, 2012
139 × 134

(6 KB)

CinderxLion (Talk | contribs)
23:40, January 4, 2012
139 × 134

(6 KB)

CinderxLion (Talk | contribs)
00:11, January 4, 2012
139 × 134

(6 KB)

CinderxLion (Talk | contribs)
00:23, January 3, 2012
139 × 134

(6 KB)

CinderxLion (Talk | contribs)
23:11, December 31, 2011
139 × 134

(6 KB)

CinderxLion (Talk | contribs)
15:45, December 31, 2011
139 × 134

(6 KB)

CinderxLion (Talk | contribs)
03:23, December 30, 2011
139 × 134

(6 KB)

CinderxLion (Talk | contribs)
23:49, December 28, 2011
139 × 134

(6 KB)

CinderxLion (Talk | contribs)
21:34, December 28, 2011
139 × 134

(11 KB)

CinderxLion (Talk | contribs)
Reverted to version as of 17:51, December 26, 2011
19:40, December 27, 2011
139 × 134

(10 KB)

CinderxLion (Talk | contribs)
17:51, December 26, 2011
139 × 134

(11 KB)

CinderxLion (Talk | contribs)
17:50, December 26, 2011
139 × 134

(13 KB)

CinderxLion (Talk | contribs)
Reverted to version as of 21:41, December 24, 2011
17:50, December 26, 2011
500 × 482

(89 KB)

CinderxLion (Talk | contribs)
21:41, December 24, 2011
139 × 134

(13 KB)

CinderxLion (Talk | contribs)
21:36, December 24, 2011
139 × 134

(5 KB)

CinderxLion (Talk | contribs)
Reverted to version as of 21:28, December 18, 2011
21:32, December 24, 2011
700 × 675

(175 KB)

CinderxLion (Talk | contribs)
21:28, December 18, 2011
139 × 134

(5 KB)

CinderxLion (Talk | contribs)
21:38, November 13, 2010
101 × 131

(4 KB)

Night shine (Talk | contribs)
21:36, November 13, 2010
101 × 131

(4 KB)

Night shine (Talk | contribs)
19:11, December 5, 2009
101 × 131

(4 KB)

Honeyfur (Talk | contribs)
16:32, December 5, 2009
101 × 131

(3 KB)

Honeyfur (Talk | contribs)
Metadata