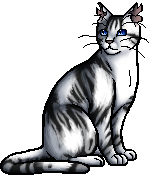 No higher resolution available.
There is no description yet. Add a description.
Appears on these pages

of
Spoiler warning: Plot and/or ending details follow. Ivypool Affiliations Current: ThunderClan...

Contents[show] About Me Hi! You can call me Sablestar, Sablewyn, or Sable. Tumblr I read all...

Hi! I'm Amber, also known as the Flying Oreo. Please don't ask. Now I know more about wikicode...
See full list >
File history
Click on a date/time to view the file as it appeared at that time.
(Latest |
Earliest
) View (newer 50 |
older 50
) (
20
|
50
|
100
|
250
|
500
)
Date/Time
Thumbnail
Dimensions
User
Comment
current
00:18, April 2, 2016
122 × 147

(12 KB)

Spookycat27 (Talk | contribs)
Reverted to version as of 01:17, December 21, 2015
04:20, April 1, 2016
300 × 200

(147 KB)

Warrior P (Talk | contribs)
04:16, April 1, 2016
175 × 249

(108 KB)

Warrior P (Talk | contribs)
04:15, April 1, 2016
300 × 249

(176 KB)

Warrior P (Talk | contribs)
04:13, April 1, 2016
300 × 249

(176 KB)

Warrior P (Talk | contribs)
04:10, April 1, 2016
300 × 310

(220 KB)

Warrior P (Talk | contribs)
01:17, December 21, 2015
122 × 147

(12 KB)

.Trollsky (Talk | contribs)
00:38, April 2, 2015
122 × 147

(12 KB)

Tigerbird (Talk | contribs)
Reverted to version as of 23:20, November 20, 2014
08:22, April 1, 2015
504 × 550

(497 KB)

The Fox Girl (Talk | contribs)
23:20, November 20, 2014
122 × 147

(12 KB)

Ivystripe (Talk | contribs)
Reverted to version as of 17:14, November 18, 2014
23:20, November 20, 2014
122 × 147

(12 KB)

Ivystripe (Talk | contribs)
17:14, November 18, 2014
122 × 147

(12 KB)

Ivystripe (Talk | contribs)
04:45, April 2, 2013
122 × 147

(13 KB)

Atelda (Talk | contribs)
Reverted to version as of 16:28, October 31, 2012
05:36, April 1, 2013
500 × 630

(409 KB)

.Shelly. (Talk | contribs)
16:28, October 31, 2012
122 × 147

(13 KB)

SnowedLightning (Talk | contribs)
Faded lineart.
19:19, July 7, 2012
122 × 147

(10 KB)

Ivystripe (Talk | contribs)
22:04, July 6, 2012
122 × 147

(10 KB)

Ivystripe (Talk | contribs)
17:06, July 6, 2012
122 × 147

(13 KB)

Ivystripe (Talk | contribs)
show darn you :l
01:48, July 6, 2012
122 × 147

(13 KB)

Ivystripe (Talk | contribs)
21:42, July 3, 2012
122 × 147

(12 KB)

Ivystripe (Talk | contribs)
19:38, May 3, 2012
122 × 147

(12 KB)

Ivystripe (Talk | contribs)
02:34, March 14, 2012
122 × 147

(12 KB)

Ivystripe (Talk | contribs)
05:54, March 12, 2012
122 × 147

(12 KB)

Ivystripe (Talk | contribs)
01:44, September 13, 2011
122 × 147

(12 KB)

LeafstrikeAsakura (Talk | contribs)
Erasing waste and fixing miscoloured lineart, if that's okay.
21:24, June 15, 2011
122 × 147

(12 KB)

Ivystripe (Talk | contribs)
01:39, June 13, 2011
122 × 147

(12 KB)

Ivystripe (Talk | contribs)
23:50, June 12, 2011
122 × 147

(12 KB)

Ivystripe (Talk | contribs)
00:19, June 9, 2011
122 × 147

(12 KB)

Ivystripe (Talk | contribs)
02:34, June 4, 2011
122 × 147

(13 KB)

Ivystripe (Talk | contribs)
18:46, May 30, 2011
122 × 147

(13 KB)

Ivystripe (Talk | contribs)
14:37, May 28, 2011
122 × 147

(13 KB)

Ivystripe (Talk | contribs)
21:53, May 27, 2011
122 × 147

(13 KB)

Ivystripe (Talk | contribs)
00:56, May 23, 2011
122 × 147

(13 KB)

Ivystripe (Talk | contribs)
00:20, May 19, 2011
122 × 147

(14 KB)

Ivystripe (Talk | contribs)
22:13, May 18, 2011
122 × 147

(14 KB)

Ivystripe (Talk | contribs)
01:47, May 12, 2011
122 × 147

(14 KB)

Ivystripe (Talk | contribs)
16:32, May 9, 2011
122 × 147

(13 KB)

Ivystripe (Talk | contribs)
21:14, May 5, 2011
122 × 147

(13 KB)

Ivystripe (Talk | contribs)
16:33, May 4, 2011
122 × 147

(13 KB)

Ivystripe (Talk | contribs)
16:23, May 2, 2011
122 × 147

(13 KB)

Ivystripe (Talk | contribs)
13:38, April 29, 2011
122 × 147

(13 KB)

Ivystripe (Talk | contribs)
19:55, April 26, 2011
122 × 147

(13 KB)

Ivystripe (Talk | contribs)
15:40, April 23, 2011
122 × 147

(13 KB)

Ivystripe (Talk | contribs)
00:12, April 23, 2011
122 × 147

(13 KB)

Ivystripe (Talk | contribs)
14:48, April 16, 2011
122 × 147

(13 KB)

Ivystripe (Talk | contribs)
00:21, April 15, 2011
122 × 147

(13 KB)

Ivystripe (Talk | contribs)
19:41, April 13, 2011
122 × 147

(13 KB)

Ivystripe (Talk | contribs)
21:13, April 12, 2011
122 × 147

(13 KB)

Ivystripe (Talk | contribs)
22:21, April 11, 2011
122 × 147

(13 KB)

Ivystripe (Talk | contribs)
19:06, April 11, 2011
122 × 147

(13 KB)

Ivystripe (Talk | contribs)
(Latest |
Earliest
) View (newer 50 |
older 50
) (
20
|
50
|
100
|
250
|
500
)
Metadata