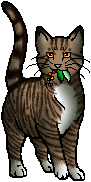 No higher resolution available.
Appears on these pages

of
Leafpool is a small, lithe, pale brown tabby she-cat with amber eyes. She has a white chest and...

File:Silverdapple.png Hi! I'm Silverdapple, and I'm pretty new, but I luv this place! Warriors...

Hello there! I'm Aleu or Wolfeye, if you wish to call me that. =3 I registered on the wiki a...
See full list >
File history
Click on a date/time to view the file as it appeared at that time.
(Latest |
Earliest
) View (newer 50 |
older 50
) (
20
|
50
|
100
|
250
|
500
)
Date/Time
Thumbnail
Dimensions
User
Comment
current
04:06, May 23, 2018
91 × 182

(21 KB)

Appledash (Talk | contribs)
23:51, May 22, 2018
91 × 182

(21 KB)

Appledash (Talk | contribs)
23:50, May 22, 2018
91 × 182

(23 KB)

Appledash (Talk | contribs)
23:43, May 22, 2018
91 × 182

(22 KB)

Appledash (Talk | contribs)
23:42, May 22, 2018
91 × 182

(22 KB)

Appledash (Talk | contribs)
20:33, May 21, 2018
91 × 182

(20 KB)

Appledash (Talk | contribs)
17:24, May 21, 2018
91 × 182

(21 KB)

Appledash (Talk | contribs)
15:48, July 1, 2017
91 × 182

(21 KB)

Appledash (Talk | contribs)
04:38, July 1, 2017
91 × 182

(21 KB)

Appledash (Talk | contribs)
04:35, July 1, 2017
91 × 182

(21 KB)

Appledash (Talk | contribs)
00:19, April 2, 2016
91 × 182

(21 KB)

Spookycat27 (Talk | contribs)
Reverted to version as of 23:13, February 17, 2016
04:14, April 1, 2016
500 × 482

(343 KB)

Appledash (Talk | contribs)
23:13, February 17, 2016
91 × 182

(21 KB)

Appledash (Talk | contribs)
trying again to reupload
04:13, February 17, 2016
91 × 182

(21 KB)

Appledash (Talk | contribs)
04:11, February 17, 2016
91 × 182

(21 KB)

Appledash (Talk | contribs)
04:11, February 17, 2016
91 × 182

(21 KB)

Appledash (Talk | contribs)
04:09, February 17, 2016
91 × 182

(21 KB)

Appledash (Talk | contribs)
04:09, February 17, 2016
91 × 182

(21 KB)

Appledash (Talk | contribs)
04:06, February 17, 2016
91 × 182

(22 KB)

Appledash (Talk | contribs)
04:04, February 17, 2016
91 × 182

(22 KB)

Appledash (Talk | contribs)
04:03, February 17, 2016
91 × 182

(22 KB)

Appledash (Talk | contribs)
04:03, February 17, 2016
91 × 182

(22 KB)

Appledash (Talk | contribs)
20:08, February 16, 2016
91 × 182

(21 KB)

Appledash (Talk | contribs)
03:57, February 16, 2016
91 × 182

(21 KB)

Appledash (Talk | contribs)
03:56, February 16, 2016
91 × 182

(21 KB)

Appledash (Talk | contribs)
23:15, February 15, 2016
91 × 182

(21 KB)

Appledash (Talk | contribs)
01:56, February 15, 2016
91 × 182

(19 KB)

Appledash (Talk | contribs)
Reverted to version as of 01:48, February 15, 2016
01:54, February 15, 2016
91 × 182

(20 KB)

Appledash (Talk | contribs)
01:48, February 15, 2016
91 × 182

(19 KB)

Appledash (Talk | contribs)
Reverted to version as of 20:50, February 14, 2016
01:47, February 15, 2016
91 × 182

(20 KB)

Appledash (Talk | contribs)
20:50, February 14, 2016
91 × 182

(19 KB)

Appledash (Talk | contribs)
20:48, February 14, 2016
91 × 182

(19 KB)

Appledash (Talk | contribs)
00:01, February 12, 2016
144 × 209

(21 KB)

Appledash (Talk | contribs)
12:34, February 11, 2016
144 × 209

(21 KB)

Appledash (Talk | contribs)
04:51, February 11, 2016
144 × 209

(21 KB)

Appledash (Talk | contribs)
Reverted to version as of 04:44, February 11, 2016
04:51, February 11, 2016
91 × 182

(20 KB)

Appledash (Talk | contribs)
04:44, February 11, 2016
144 × 209

(21 KB)

Appledash (Talk | contribs)
Reverted to version as of 05:42, February 9, 2016
04:44, February 11, 2016
91 × 182

(20 KB)

Appledash (Talk | contribs)
05:42, February 9, 2016
144 × 209

(21 KB)

Appledash (Talk | contribs)
05:38, February 9, 2016
144 × 209

(20 KB)

Appledash (Talk | contribs)
05:37, February 9, 2016
144 × 209

(21 KB)

Appledash (Talk | contribs)
23:21, February 8, 2016
144 × 209

(21 KB)

Appledash (Talk | contribs)
18:46, February 8, 2016
144 × 209

(21 KB)

Appledash (Talk | contribs)
18:42, February 8, 2016
144 × 209

(21 KB)

Appledash (Talk | contribs)
18:41, February 8, 2016
144 × 209

(21 KB)

Appledash (Talk | contribs)
18:40, February 8, 2016
144 × 209

(21 KB)

Appledash (Talk | contribs)
18:40, February 8, 2016
144 × 209

(20 KB)

Appledash (Talk | contribs)
01:58, February 8, 2016
144 × 209

(21 KB)

Appledash (Talk | contribs)
19:10, February 7, 2016
144 × 209

(21 KB)

Appledash (Talk | contribs)
18:55, February 7, 2016
144 × 209

(21 KB)

Appledash (Talk | contribs)
(Latest |
Earliest
) View (newer 50 |
older 50
) (
20
|
50
|
100
|
250
|
500
)
Metadata