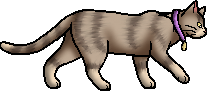 No higher resolution available.
Licensing
Edit
Appears on these pages

of
Millie is a small, short-furred light gray tabby she-cat with blue eyes and a torn ear. Mate:

This is my massive list of chararts. This list contains redone images as well, and is forever...

Sziri the goat sails away ツ 12:04, July 3, 2015 (UTC) theres a random pixel by his tail. david 🌈...
File history
Click on a date/time to view the file as it appeared at that time.
Date/Time
Thumbnail
Dimensions
User
Comment
current
01:37, February 8, 2012
207 × 91

(16 KB)

SnowedLightning (Talk | contribs)
05:36, February 7, 2012
207 × 91

(17 KB)

SnowedLightning (Talk | contribs)
02:31, February 7, 2012
207 × 91

(17 KB)

SnowedLightning (Talk | contribs)
02:30, February 7, 2012
207 × 91

(17 KB)

SnowedLightning (Talk | contribs)
19:50, February 6, 2012
207 × 91

(17 KB)

SnowedLightning (Talk | contribs)
19:31, February 6, 2012
207 × 91

(16 KB)

SnowedLightning (Talk | contribs)
03:07, October 31, 2011
230 × 161

(17 KB)

SnowedLightning (Talk | contribs)
Derp. xD
01:21, October 31, 2011
230 × 161

(17 KB)

SnowedLightning (Talk | contribs)
00:32, October 31, 2011
230 × 161

(17 KB)

SnowedLightning (Talk | contribs)
19:30, October 30, 2011
230 × 161

(17 KB)

SnowedLightning (Talk | contribs)
19:14, October 30, 2011
230 × 161

(18 KB)

SnowedLightning (Talk | contribs)
18:39, October 30, 2011
230 × 161

(18 KB)

SnowedLightning (Talk | contribs)
12:24, October 17, 2011
230 × 161

(17 KB)

Loudsplash100000 (Talk | contribs)
03:26, October 15, 2011
230 × 161

(17 KB)

SnowedLightning (Talk | contribs)
Stripe Tweak
13:45, October 13, 2011
230 × 161

(16 KB)

Loudsplash100000 (Talk | contribs)
13:01, October 12, 2011
230 × 161

(16 KB)

Loudsplash100000 (Talk | contribs)
12:09, October 12, 2011
230 × 161

(16 KB)

Loudsplash100000 (Talk | contribs)
19:51, October 11, 2011
230 × 161

(16 KB)

Loudsplash100000 (Talk | contribs)
19:04, October 11, 2011
230 × 161

(16 KB)

Loudsplash100000 (Talk | contribs)
19:04, October 11, 2011
230 × 161

(16 KB)

Loudsplash100000 (Talk | contribs)
19:04, October 11, 2011
230 × 161

(16 KB)

Loudsplash100000 (Talk | contribs)
19:03, October 11, 2011
230 × 161

(16 KB)

Loudsplash100000 (Talk | contribs)
19:03, October 11, 2011
230 × 161

(16 KB)

Loudsplash100000 (Talk | contribs)
19:02, October 11, 2011
230 × 161

(16 KB)

Loudsplash100000 (Talk | contribs)
19:01, October 11, 2011
230 × 161

(15 KB)

Loudsplash100000 (Talk | contribs)
19:01, October 11, 2011
230 × 161

(15 KB)

Loudsplash100000 (Talk | contribs)
16:23, October 11, 2011
230 × 161

(15 KB)

Loudsplash100000 (Talk | contribs)
15:45, October 11, 2011
230 × 161

(15 KB)

Loudsplash100000 (Talk | contribs)
15:23, October 11, 2011
230 × 161

(13 KB)

Loudsplash100000 (Talk | contribs)
15:22, October 11, 2011
230 × 161

(13 KB)

Loudsplash100000 (Talk | contribs)
15:22, October 11, 2011
230 × 161

(13 KB)

Loudsplash100000 (Talk | contribs)
14:33, October 11, 2011
230 × 161

(15 KB)

Loudsplash100000 (Talk | contribs)
03:19, April 16, 2011
230 × 161

(21 KB)

Ice Cave (Talk | contribs)
03:10, April 16, 2011
230 × 161

(9 KB)

Ice Cave (Talk | contribs)