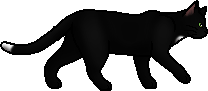 No higher resolution available.
Appears on these pages

of
Ravenpaw is a small, sleek, skinny, jet-black tom with a tiny white dash on his chest and green...

About Me My favorite warriors books are "Bluestar's Prophecy" and "The Darkest Hour." My...

Vinestar- Approved Poor Honeyfur. All she can draw are leader Charcats. =P Oh, well. What do...
See full list >
File history
Click on a date/time to view the file as it appeared at that time.
(Latest |
Earliest
) View (newer 50 |
older 50
) (
20
|
50
|
100
|
250
|
500
)
Date/Time
Thumbnail
Dimensions
User
Comment
current
20:45, October 30, 2017
208 × 91

(5 KB)

Ivybreeze (Talk | contribs)
Reverted to version as of 16:59, September 6, 2016
04:43, April 12, 2017
208 × 91

(5 KB)

Broken Foot (Talk | contribs)
16:59, September 6, 2016
208 × 91

(5 KB)

Bluestar11796 (Talk | contribs)
07:15, January 26, 2016
208 × 91

(5 KB)

.Trollsky (Talk | contribs)
02:58, August 16, 2014
208 × 91

(8 KB)

SnowedLightning (Talk | contribs)
04:36, April 2, 2013
208 × 91

(8 KB)

Atelda (Talk | contribs)
Reverted to version as of 06:18, February 3, 2013
14:00, April 1, 2013
540 × 377

(322 KB)

Paleclaw (Talk | contribs)
06:18, February 3, 2013
208 × 91

(8 KB)

SnowedLightning (Talk | contribs)
21:28, February 2, 2012
208 × 91

(4 KB)

LeafstrikeAsakura (Talk | contribs)
22:36, January 30, 2012
208 × 91

(4 KB)

LeafstrikeAsakura (Talk | contribs)
21:05, January 30, 2012
208 × 91

(4 KB)

LeafstrikeAsakura (Talk | contribs)
20:47, January 30, 2012
208 × 91

(4 KB)

LeafstrikeAsakura (Talk | contribs)
Redone with new loner blank
22:33, October 26, 2011
230 × 161

(14 KB)

LeafstrikeAsakura (Talk | contribs)
17:24, October 25, 2011
230 × 161

(14 KB)

LeafstrikeAsakura (Talk | contribs)
00:41, October 25, 2011
230 × 161

(14 KB)

LeafstrikeAsakura (Talk | contribs)
20:06, October 24, 2011
230 × 161

(14 KB)

LeafstrikeAsakura (Talk | contribs)
17:12, October 24, 2011
230 × 161

(14 KB)

LeafstrikeAsakura (Talk | contribs)
16:48, October 24, 2011
230 × 161

(14 KB)

LeafstrikeAsakura (Talk | contribs)
Reverted to version as of 16:44, October 23, 2011
19:59, October 23, 2011
230 × 161

(6 KB)

Iceheart22 (Talk | contribs)
Reverted to version as of 04:12, September 27, 2011
16:44, October 23, 2011
230 × 161

(14 KB)

LeafstrikeAsakura (Talk | contribs)
15:19, October 23, 2011
230 × 161

(13 KB)

LeafstrikeAsakura (Talk | contribs)
14:16, October 23, 2011
230 × 161

(11 KB)

LeafstrikeAsakura (Talk | contribs)
04:12, September 27, 2011
230 × 161

(6 KB)

SnowedLightning (Talk | contribs)
Reverted to version as of 01:54, May 18, 2011
01:16, September 23, 2011
230 × 161

(11 KB)

LeafstrikeAsakura (Talk | contribs)
01:15, September 23, 2011
230 × 161

(11 KB)

LeafstrikeAsakura (Talk | contribs)
17:05, September 22, 2011
230 × 161

(11 KB)

LeafstrikeAsakura (Talk | contribs)
17:05, September 22, 2011
230 × 161

(11 KB)

LeafstrikeAsakura (Talk | contribs)
21:24, September 21, 2011
230 × 161

(11 KB)

LeafstrikeAsakura (Talk | contribs)
21:24, September 21, 2011
230 × 161

(11 KB)

LeafstrikeAsakura (Talk | contribs)
00:47, September 21, 2011
230 × 161

(10 KB)

LeafstrikeAsakura (Talk | contribs)
GAH! STUPID CHANGES!
23:43, September 19, 2011
230 × 161

(10 KB)

LeafstrikeAsakura (Talk | contribs)
23:42, September 19, 2011
230 × 161

(10 KB)

LeafstrikeAsakura (Talk | contribs)
21:20, September 19, 2011
230 × 161

(10 KB)

LeafstrikeAsakura (Talk | contribs)
21:20, September 19, 2011
230 × 161

(10 KB)

LeafstrikeAsakura (Talk | contribs)
17:38, September 19, 2011
230 × 161

(10 KB)

LeafstrikeAsakura (Talk | contribs)
17:37, September 19, 2011
230 × 161

(10 KB)

LeafstrikeAsakura (Talk | contribs)
17:21, September 19, 2011
230 × 161

(9 KB)

LeafstrikeAsakura (Talk | contribs)
17:21, September 19, 2011
230 × 161

(9 KB)

LeafstrikeAsakura (Talk | contribs)
01:54, May 18, 2011
230 × 161

(6 KB)

BlueOrca (Talk | contribs)
16:36, May 8, 2011
230 × 161

(7 KB)

LeafstrikeAsakura (Talk | contribs)
Reverted to version as of 04:35, May 5, 2011
23:46, May 6, 2011
230 × 161

(14 KB)

BlueOrca (Talk | contribs)
Reverted to version as of 04:33, May 5, 2011 Should have amber eyes..
04:35, May 5, 2011
230 × 161

(7 KB)

BlueOrca (Talk | contribs)
Reverted to version as of 18:33, May 4, 2011 WTF...
04:33, May 5, 2011
230 × 161

(14 KB)

BlueOrca (Talk | contribs)
Added transparency
18:33, May 4, 2011
230 × 161

(7 KB)

SnowedLightning (Talk | contribs)
Reverted to version as of 03:27, March 13, 2010
02:52, May 3, 2011
230 × 161

(14 KB)

Melodie இಌஇ Lucero (Talk | contribs)
03:27, March 13, 2010
230 × 161

(7 KB)

Insaneular (Talk | contribs)
Reverted to version as of 03:00, October 28, 2009
00:06, March 13, 2010
230 × 161

(5 KB)

Penguinheart (Talk | contribs)
Reverted to version as of 23:40, October 26, 2009
03:00, October 28, 2009
230 × 161

(7 KB)

Bramble (Talk | contribs)
adding transparency
23:40, October 26, 2009
230 × 161

(5 KB)

Minnowclaw (Talk | contribs)
22:25, October 26, 2009
230 × 161

(5 KB)

Minnowclaw (Talk | contribs)
(Latest |
Earliest
) View (newer 50 |
older 50
) (
20
|
50
|
100
|
250
|
500
)
Metadata