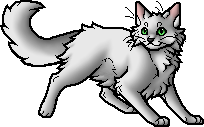 No higher resolution available.
Appears on these pages

of
Sagenose is a small, pale gray tom with pale, barely noticeable stripes. Mother:

Working Original Kits (6) Apprentices (5) Warriors (13) Medicine Cats (4) Queens (8) Deputies...

tweaked to make grayStealthf🔥re ❤Warriors Forever!❤ 01:37, April 16, 2017 (UTC) Skt borrowed...
File history
Click on a date/time to view the file as it appeared at that time.
Date/Time
Thumbnail
Dimensions
User
Comment
current
22:45, April 21, 2017
139 × 134

(14 KB)

Sunjaw (Talk | contribs)
22:32, April 21, 2017
139 × 134

(11 KB)

Sunjaw (Talk | contribs)
22:15, April 21, 2017
139 × 134

(11 KB)

Sunjaw (Talk | contribs)
02:01, September 28, 2012
139 × 134

(11 KB)

♫~Berry~♫ (Talk | contribs)
00:54, September 28, 2012
139 × 134

(11 KB)

♫~Berry~♫ (Talk | contribs)
03:33, January 16, 2012
139 × 134

(4 KB)

.Shelly. (Talk | contribs)
19:16, August 10, 2011
86 × 139

(6 KB)

Atelda (Talk | contribs)
18:45, August 9, 2011
86 × 139

(6 KB)

Atelda (Talk | contribs)
07:35, January 29, 2011
86 × 139

(6 KB)

Night shine (Talk | contribs)
07:35, January 29, 2011
86 × 139

(6 KB)

Night shine (Talk | contribs)
01:16, January 24, 2011
86 × 139

(6 KB)

Night shine (Talk | contribs)
00:44, January 22, 2011
86 × 139

(6 KB)

Night shine (Talk | contribs)
00:44, January 22, 2011
86 × 139

(6 KB)

Night shine (Talk | contribs)
00:20, January 20, 2011
86 × 139

(6 KB)

Night shine (Talk | contribs)
00:20, January 20, 2011
86 × 139

(6 KB)

Night shine (Talk | contribs)
00:19, January 20, 2011
86 × 139

(6 KB)

Night shine (Talk | contribs)
00:15, January 16, 2011
86 × 139

(6 KB)

Night shine (Talk | contribs)
00:14, January 16, 2011
86 × 139

(6 KB)

Night shine (Talk | contribs)
00:14, January 16, 2011
86 × 139

(6 KB)

Night shine (Talk | contribs)
00:14, January 16, 2011
86 × 139

(6 KB)

Night shine (Talk | contribs)
00:42, January 15, 2011
86 × 139

(6 KB)

Night shine (Talk | contribs)
00:38, January 15, 2011
86 × 139

(6 KB)

Night shine (Talk | contribs)
00:11, January 12, 2011
86 × 139

(6 KB)

Night shine (Talk | contribs)
00:11, January 12, 2011
86 × 139

(6 KB)

Night shine (Talk | contribs)
01:29, January 11, 2011
86 × 139

(6 KB)

Night shine (Talk | contribs)
01:28, January 11, 2011
86 × 139

(6 KB)

Night shine (Talk | contribs)
01:28, January 11, 2011
86 × 139

(6 KB)

Night shine (Talk | contribs)
01:28, January 11, 2011
86 × 139

(6 KB)

Night shine (Talk | contribs)
01:28, January 11, 2011
86 × 139

(6 KB)

Night shine (Talk | contribs)
20:05, January 9, 2011
86 × 139

(5 KB)

Night shine (Talk | contribs)
20:05, January 9, 2011
86 × 139

(5 KB)

Night shine (Talk | contribs)
20:05, January 9, 2011
86 × 139

(5 KB)

Night shine (Talk | contribs)
20:04, January 9, 2011
86 × 139

(5 KB)

Night shine (Talk | contribs)
19:31, January 9, 2011
86 × 139

(5 KB)

Night shine (Talk | contribs)
19:31, January 9, 2011
86 × 139

(5 KB)

Night shine (Talk | contribs)
19:29, January 9, 2011
86 × 139

(5 KB)

Night shine (Talk | contribs)
19:29, January 9, 2011
86 × 139

(5 KB)

Night shine (Talk | contribs)
19:28, January 9, 2011
86 × 139

(5 KB)

Night shine (Talk | contribs)
17:59, December 22, 2010
86 × 139

(6 KB)

Night shine (Talk | contribs)
17:59, December 22, 2010
86 × 139

(6 KB)

Night shine (Talk | contribs)
17:58, December 22, 2010
86 × 139

(6 KB)

Night shine (Talk | contribs)
17:58, December 22, 2010
86 × 139

(6 KB)

Night shine (Talk | contribs)
21:57, December 17, 2010
88 × 141

(4 KB)

LunaDiviner7 (Talk | contribs)
15:30, December 16, 2010
88 × 141

(4 KB)

LunaDiviner7 (Talk | contribs)
Metadata