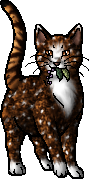 No higher resolution available.
There is no description yet. Add a description.
Appears on these pages

of
Spottedleaf is a small, lithe, soft-furred, dark tortoiseshell-and-white she-cat with large...

.Shelly. Affiliations Current: DeviantArt.com, Warriors Wiki Past: Gaiaonline, Neopets, a slew...

About Me My favorite warriors books are "Bluestar's Prophecy" and "The Darkest Hour." My...
See full list >
File history
Click on a date/time to view the file as it appeared at that time.
(Latest |
Earliest
) View (newer 50 |
older 50
) (
20
|
50
|
100
|
250
|
500
)
Date/Time
Thumbnail
Dimensions
User
Comment
current
22:20, August 3, 2017
89 × 179

(24 KB)

Homosneksual (Talk | contribs)
19:51, April 17, 2017
89 × 179

(24 KB)

Homosneksual (Talk | contribs)
13:04, February 11, 2016
89 × 179

(24 KB)

Pikachushinx (Talk | contribs)
fixing an issue with the whiskers :P
09:38, February 9, 2016
88 × 179

(25 KB)

Pikachushinx (Talk | contribs)
16:42, February 8, 2016
88 × 179

(25 KB)

Pikachushinx (Talk | contribs)
02:42, February 7, 2016
88 × 179

(25 KB)

Pikachushinx (Talk | contribs)
New blank
07:59, December 21, 2015
131 × 147

(20 KB)

Burntclaw (Talk | contribs)
Removed eyelashes
04:58, May 19, 2015
129 × 145

(22 KB)

SnowedLightning (Talk | contribs)
She needs the pink nose on her MC.
00:20, March 16, 2015
131 × 147

(20 KB)

Burntclaw (Talk | contribs)
Reverted to version as of 06:58, March 15, 2015
07:11, March 15, 2015
131 × 147

(20 KB)

Burntclaw (Talk | contribs)
stupid fox
06:58, March 15, 2015
131 × 147

(20 KB)

Burntclaw (Talk | contribs)
Tweaked
05:34, January 4, 2013
131 × 147

(19 KB)

Paleclaw (Talk | contribs)
05:14, January 4, 2013
131 × 147

(19 KB)

Paleclaw (Talk | contribs)
04:23, January 3, 2013
131 × 147

(19 KB)

Paleclaw (Talk | contribs)
04:23, January 3, 2013
131 × 147

(19 KB)

Paleclaw (Talk | contribs)
17:45, October 9, 2011
132 × 147

(16 KB)

Iceheart22 (Talk | contribs)
20:09, October 8, 2011
132 × 147

(16 KB)

Iceheart22 (Talk | contribs)
04:01, October 8, 2011
132 × 147

(15 KB)

Iceheart22 (Talk | contribs)
03:58, October 8, 2011
132 × 147

(16 KB)

Iceheart22 (Talk | contribs)
23:32, October 5, 2011
132 × 147

(14 KB)

Iceheart22 (Talk | contribs)
23:20, October 5, 2011
132 × 147

(14 KB)

Iceheart22 (Talk | contribs)
01:55, October 3, 2011
132 × 147

(16 KB)

Iceheart22 (Talk | contribs)
15:52, September 14, 2011
132 × 147

(15 KB)

Paleclaw (Talk | contribs)
Reverted to version as of 20:00, July 28, 2011
15:09, September 14, 2011
132 × 147

(15 KB)

SnowedLightning (Talk | contribs)
Reverted to version as of 20:00, July 28, 2011 Umm, no. You're not allowed to do that.
09:56, September 14, 2011
132 × 147

(28 KB)

Kittycat79 (Talk | contribs)
Reverted to version as of 13:40, January 30, 2011
20:00, July 28, 2011
132 × 147

(15 KB)

Appledash (Talk | contribs)
23:36, July 27, 2011
132 × 147

(15 KB)

Appledash (Talk | contribs)
16:12, July 27, 2011
132 × 147

(15 KB)

Appledash (Talk | contribs)
15:14, July 27, 2011
132 × 147

(14 KB)

Appledash (Talk | contribs)
14:50, July 27, 2011
132 × 147

(14 KB)

Appledash (Talk | contribs)
14:03, July 27, 2011
132 × 147

(14 KB)

Appledash (Talk | contribs)
21:39, July 26, 2011
132 × 147

(14 KB)

Appledash (Talk | contribs)
21:33, July 26, 2011
132 × 147

(14 KB)

Appledash (Talk | contribs)
21:18, July 26, 2011
132 × 147

(16 KB)

Appledash (Talk | contribs)
18:13, July 26, 2011
132 × 147

(15 KB)

Appledash (Talk | contribs)
00:24, July 26, 2011
132 × 147

(16 KB)

Appledash (Talk | contribs)
22:13, July 25, 2011
132 × 147

(16 KB)

Appledash (Talk | contribs)
21:05, July 25, 2011
132 × 147

(12 KB)

Appledash (Talk | contribs)
18:14, July 24, 2011
132 × 147

(14 KB)

Appledash (Talk | contribs)
15:45, July 24, 2011
132 × 147

(14 KB)

Appledash (Talk | contribs)
15:27, July 24, 2011
132 × 147

(12 KB)

Appledash (Talk | contribs)
15:19, July 24, 2011
132 × 147

(12 KB)

Appledash (Talk | contribs)
15:14, July 24, 2011
132 × 147

(12 KB)

Appledash (Talk | contribs)
21:00, July 7, 2011
132 × 147

(21 KB)

XxdovesongXX (Talk | contribs)
13:40, January 30, 2011
132 × 147

(28 KB)

RainpeltWindClan (Talk | contribs)
19:55, July 29, 2010
132 × 147

(28 KB)

Fiercestar RiverClan (Talk | contribs)
16:35, October 4, 2009
132 × 147

(24 KB)

Shimmersong (Talk | contribs)
20:39, October 2, 2009
132 × 147

(23 KB)

Shimmersong (Talk | contribs)
20:32, October 2, 2009
132 × 147

(24 KB)

Shimmersong (Talk | contribs)
16:30, September 20, 2009
132 × 147

(23 KB)

Shimmersong (Talk | contribs)
(Latest |
Earliest
) View (newer 50 |
older 50
) (
20
|
50
|
100
|
250
|
500
)
Metadata