As of approximately 21 November, my activity is gonna be hit and miss for a bit. Matters beyond my control have caused this, and I should be back to normal activity clogging by mid-December. I will still be here to perform my administrative duties and lead jobs, I just won't be online 24/7 like I usually am. If you need me, my Skype, email, and cell phone number are available to all who ask.
---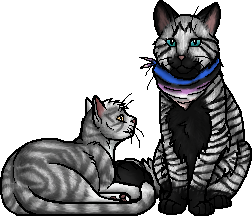 My name is Jayce and I live in Pennsylvania. I'm a twenty-one year old, Pokémon obsessed loser. Please use they/them pronouns for me, and address me as such. I'm an administrator here, and I've been on this wiki for over five years now. My best friend is this nerd named David and I really don't know what I'd do without him. Along with Pokémon, I really like Fullmetal Alchemist and My Little Pony. I'm also an avid fan of Vic Mignogna, Aerosmith, and Journey.
I'm the deputy of the Charart Project and I lead Project:Books. I also help out Project:Characters and I actually really enjoy writing articles.
~ ~ ~ ~
My chararts are

here

, and other project stuff like nominations are

here

.
If you get down on yourself about your art, remember that I started out at the bottom, and you'll get there one day.
---
Userboxes
Book Ownership

This user has read
all the Warriors Books, and
StarClan honors this user.

This user owns a copy of


Dawn

.

This user owns a copy of


Sunset

.
Likes and Dislikes

This user is a fan of
Sol

This user dislikes
Wind

This user is a
Tribe supporter
Wikia/Personal Userboxes

This user lives in
the United States

| | |
| --- | --- |
| | This user is 5'2" tall |

| | |
| --- | --- |
| 21 | This user is 21 years old |

This user just belongs in
the Tribe

| | |
| --- | --- |
| | This user is a Leo. |

| | |
| --- | --- |
| 鶏 | This user was born in the Year of the Rooster |

| | |
| --- | --- |
| 1337-0 | This user has no idea what 1337 is and/or prefers to contribute using proper words. |

| | |
| --- | --- |
| en-5 | This user is able to contribute with a professional level of English |

| | |
| --- | --- |
| IntS-0 | This user has no interest in Internet slang, or talks like an offline person |

| | |
| --- | --- |
| LE-0 | This individual still maintains a shred of dignity in this insane world by adhering to correct spelling, grammar, punctuation and capitalisation |

| | |
| --- | --- |
| sar | This user is obviously not sarcastic |

| | |
| --- | --- |
| sar-5 | This user is an expert at picking up on sarcasm, as well as making sarcastic remarks |

This user listens to music by
Aerosmith

This user listens to music by
Three Days Grace

This user listens to music by
Journey

This user listens to music by
Daughtry

This user listens to music by
Michael Jackson

This user listens to music by
Maroon 5

This user listens to music by
Shinedown

This user listens to music by
"Weird Al" Yankovic

This user listens to music by
Staind

This user listens to music by
Gackt

This user listens to music by
Backstreet Boys

This user listens to music by
bands that existed long before you were born.

This user likes
winter

This user likes
snow

This user likes
darkness

This user dislikes
summer

This user dislikes
sunshine

| | |
| --- | --- |
| | This user is a devoted fan of Vic Mignogna |

| | |
| --- | --- |
| | This user is a devoted fan of Crispin Freeman |
Nerds<3

| | |
| --- | --- |
| | This user counts themselves as a best friend of David |

| | |
| --- | --- |
| | This user counts themselves as a best friend of Evrett |

| | |
| --- | --- |
| | This user counts themselves as a best friend of Sukant |

| | |
| --- | --- |
| | This user counts themselves as a best friend of Juliana |

| | |
| --- | --- |
| | This user counts themselves as a best friend of Chelsea |

| | |
| --- | --- |
| | This user counts themselves as a best friend of Scarlet |

| | |
| --- | --- |
| | This user counts themselves as a best friend of Splook |

| | |
| --- | --- |
| | This user counts themselves as a best friend of Echo |

| | |
| --- | --- |
| | This user counts themselves as a best friend of Ivy |

| | |
| --- | --- |
| | This user counts themselves as a best friend of Neha |

| | |
| --- | --- |
| | This user counts themselves as a best friend of Aleks |

| | |
| --- | --- |
| | This user counts themselves as a best friend of Sage |

| | |
| --- | --- |
| | This user counts themselves as a best friend of Roo |

| | |
| --- | --- |
| | This user counts themselves as a best friend of Shinx |

| | |
| --- | --- |
| | This user counts themselves as a best friend of Beebs |

| | |
| --- | --- |
| | This user counts themselves as a best friend of Computer |

| | |
| --- | --- |
| | This user counts themselves as a best friend of Jayie |

| | |
| --- | --- |
| | This user counts themselves as a best friend of Shane |

| | |
| --- | --- |
| | This user counts themselves as a best friend of Berry |

| | |
| --- | --- |
| | This user counts themselves as a best friend of Hawkey |
Current Goal: 69,000 edits/Chapter Subpages