Dreamcatcher / Dreamstar
Current:
SnowClan
Past:
StormClan, Loner
Names:
Warrior:
Deputy:
Leader:
Elder:
Dreamcatcher
Dreamcatcher
Dreamstar
Dreamstar
Family:
Father:
Mother:
Brother:
Sister:
Mates:
Daughters:
Sons:
Smokefoot
Cloudheart
Valorsong
Hollyfeather, Roseflower
Tigertree, Unnamed Tom
Busterflight, Jaysong, Feathernose
Streamtail, Hollowforest, Turtlepaw
Education:
Mentors:
Birdstar, Jayflight
Apprentices:
Havenflight, Birdleap, Busterflight
"Life comes at you fast, just like a raging current. I don't fight it. Going against the flow? That just means you're swimming in place. One day you're too tired to paddle and suddenly you drown. The whole thing was pointless and now you're dead, the end. Now going with the flow is where it's at. And that's.. the Dandy way to live."
—Dandy, Space Dandy
---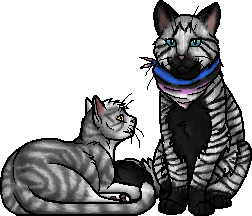 ---
Dreamcatcher, or Dreamstar, is a small, fluffy, and ragged silver-and-black tabby she-cat. Her eyes are a blue-tinted shade of aquamarine, and she has slowly-fading eyesight. Her paws, belly, tail-tip, muzzle, and ears are black, and she has a small pink nose.
----
That's my OC, and my name is Jayce. I'm twenty-two years old, and I live in the central-northeastern area of Pennsylvania. My pronouns are they/them or he/him, and I will not answer you if you call me a female. I'm one of the administrators here, and I've been here since 2009. In that time, I've become the deputy of PR, the leader of PCA, and a senior warrior of PC and PB. I try and help the best that I can to all projects, though. My favorite characters are Cloudtail, Lightningtail, and Turtle Tail. In addition to Warriors, I also like Pokémon, Mass Effect, and My Little Pony. This is the best music video ever, and you should watch it
David is a big loser, and my very best friend. I don't know where I'd be without him.
---
Userboxes
Book Ownership

This user has read
all the Warriors Books, and
StarClan honors this user.

This user owns a copy of


Dawn

.

This user owns a copy of


Sunset

.
Likes and Dislikes

This user is a fan of
Sol

This user dislikes
Wind

This user is a
Tribe supporter
Wikia/Personal Userboxes

This user lives in
the United States

| | |
| --- | --- |
| | This user is 5'3" tall |

| | |
| --- | --- |
| | This user identifies outside the gender binary. |

| | |
| --- | --- |
| 22 | This user is 22 years old |

This user just belongs in
the Tribe

| | |
| --- | --- |
| | This user is a Leo. |

| | |
| --- | --- |
| 鶏 | This user was born in the Year of the Rooster |

| | |
| --- | --- |
| 1337-0 | This user has no idea what 1337 is and/or prefers to contribute using proper words. |

| | |
| --- | --- |
| en-5 | This user is able to contribute with a professional level of English |

| | |
| --- | --- |
| IntS-0 | This user has no interest in Internet slang, or talks like an offline person |

| | |
| --- | --- |
| LE-0 | This individual still maintains a shred of dignity in this insane world by adhering to correct spelling, grammar, punctuation and capitalisation |

| | |
| --- | --- |
| sar | This user is obviously not sarcastic |

| | |
| --- | --- |
| sar-5 | This user is an expert at picking up on sarcasm, as well as making sarcastic remarks |

This user listens to music by
Aerosmith

This user listens to music by
Three Days Grace

This user listens to music by
Journey

This user listens to music by
Daughtry

This user listens to music by
Kacey Musgraves

This user listens to music by
Shinedown

This user listens to music by
Styx

This user listens to music by
Elton John

This user listens to music by
Stone Sour

This user listens to music by
Lynyrd Skynyrd

This user likes
winter

This user likes
snow

This user likes
darkness

This user dislikes
summer

This user dislikes
sunshine

| | |
| --- | --- |
| | This user is a devoted fan of Vic Mignogna |

| | |
| --- | --- |
| | This user is a devoted fan of Crispin Freeman |
Nerds<3

| | |
| --- | --- |
| | This user counts themselves as a best friend of David |

| | |
| --- | --- |
| | This user counts themselves as a best friend of Ev |

| | |
| --- | --- |
| | This user counts themselves as a best friend of Sukant |

| | |
| --- | --- |
| | This user counts themselves as a best friend of Juliana |

| | |
| --- | --- |
| | This user counts themselves as a best friend of Chelsea |

| | |
| --- | --- |
| | This user counts themselves as a best friend of Scarlet |

| | |
| --- | --- |
| | This user counts themselves as a best friend of Splook |

| | |
| --- | --- |
| | This user counts themselves as a best friend of Echo |

| | |
| --- | --- |
| | This user counts themselves as a best friend of Ivy |

| | |
| --- | --- |
| | This user counts themselves as a best friend of Neha |

| | |
| --- | --- |
| | This user counts themselves as a best friend of Aleks |

| | |
| --- | --- |
| | This user counts themselves as a best friend of Sage |

| | |
| --- | --- |
| | This user counts themselves as a best friend of Roo |

| | |
| --- | --- |
| | This user counts themselves as a best friend of Shinx |

| | |
| --- | --- |
| | This user counts themselves as a best friend of Beebs |

| | |
| --- | --- |
| | This user counts themselves as a best friend of Jayie |

| | |
| --- | --- |
| | This user counts themselves as a best friend of Berry |

| | |
| --- | --- |
| | This user counts themselves as a best friend of Hawkey |