| Power of Three/Omen of the Stars Defense Squad 2k14 |
---
---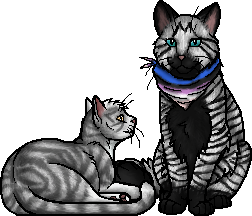 Dreamcatcher, or Dreamstar, is an elegant silvery-gray and black tabby she-cat with black paws, muzzle, belly and ears. Her fur is fluffy, ragged, and very messy.
~ ~ ~ ~
Yeah, that's my OC, and she's my precious baby. Although, just because my OC is female, does not mean I am. I prefer to not be addressed with gendered pronouns, so if you need to talk to me, please use "they/them" pronouns for me. It's not that hard, and "they" is acceptable to use as a pronoun. Common nicknames are Cloud, Skye, Snow, or Lightning...and before you ask, if you don't know which one to use, or I am not comfortable with you calling me Jayce, please default to calling me Cloud. I am not to be confused with

another user who goes by 'Lightning'

, by the way. I'm one of the administrators of the wiki, alongside

Ducksplash

and

Atelda

.
~ ~ ~ ~
I've been a member of this wiki since May of 2009, and I've liked Warriors even longer. My favorite characters are

Cloudtail

,

Turtle Tail

,

Ashfur

(haters need not respond), and

Lightningtail

, while my least favorites are

Firestar

,

Squirrelflight

,

Dovewing

, and

Bluestar

. If you ask me what my favorite Clan is, I'd reject all modern Clans (save for

SkyClan

) and place my allegiances with the

Tribe

. I really love Pokémon, Final Fantasy (especially VII and XIII) and My Little Pony. Some favorites from those include N, Tabitha, Cloud Strife, Sunset Shimmer, Princess Luna, and Rainbow Dash.
~ ~ ~ ~
I often patrol the chatroom and contribute to the various projects here on the wiki. You'll most often see me help with Project:Books, and Project:Charart, and Project:Characters, where I am leader, deputy, and warrior, respectively. Outside of Warriors Wiki, I am part of Community Council and one of the Wikia Stars. My chararts are

here

, and other project stuff like nominations are

here

.
---
Userboxes
Book Ownership

This user has read
all the Warriors Books, and
StarClan honors this user.

This user owns a copy of


Dawn

.

This user owns a copy of


Sunset

.
Likes and Dislikes

This user is a fan of
Sol

This user dislikes
Wind

This user is a
Tribe supporter
Wikia/Personal Userboxes

This user lives in
the United States

| | |
| --- | --- |
| | This user is 5'2" tall |

| | |
| --- | --- |
| 21 | This user is 21 years old |

This user just belongs in
the Tribe

| | |
| --- | --- |
| | This user is a Leo. |

| | |
| --- | --- |
| 鶏 | This user was born in the Year of the Rooster |

| | |
| --- | --- |
| 1337-0 | This user has no idea what 1337 is and/or prefers to contribute using proper words. |

| | |
| --- | --- |
| en-5 | This user is able to contribute with a professional level of English |

| | |
| --- | --- |
| IntS-0 | This user has no interest in Internet slang, or talks like an offline person |

| | |
| --- | --- |
| LE-0 | This individual still maintains a shred of dignity in this insane world by adhering to correct spelling, grammar, punctuation and capitalisation |

| | |
| --- | --- |
| sar | This user is obviously not sarcastic |

| | |
| --- | --- |
| sar-5 | This user is an expert at picking up on sarcasm, as well as making sarcastic remarks |

This user listens to music by
Aerosmith

This user listens to music by
Three Days Grace

This user listens to music by
Journey

This user listens to music by
Daughtry

This user listens to music by
Michael Jackson

This user listens to music by
Maroon 5

This user listens to music by
Shinedown

This user listens to music by
"Weird Al" Yankovic

This user listens to music by
Staind

This user listens to music by
Gackt

This user listens to music by
Backstreet Boys

This user listens to music by
bands that existed long before you were born.

This user likes
winter

This user likes
snow

This user likes
darkness

This user dislikes
summer

This user dislikes
sunshine
Nerds<3

| | |
| --- | --- |
| | This user counts themselves as a best friend of David |

| | |
| --- | --- |
| | This user counts themselves as a best friend of Evrett |

| | |
| --- | --- |
| | This user counts themselves as a best friend of Sukant |

| | |
| --- | --- |
| | This user counts themselves as a best friend of Juliana |

| | |
| --- | --- |
| | This user counts themselves as a best friend of Chelsea |

| | |
| --- | --- |
| | This user counts themselves as a best friend of Scarlet |

| | |
| --- | --- |
| | This user counts themselves as a best friend of Splook |

| | |
| --- | --- |
| | This user counts themselves as a best friend of Echo |

| | |
| --- | --- |
| | This user counts themselves as a best friend of Ivy |

| | |
| --- | --- |
| | This user counts themselves as a best friend of Neha |

| | |
| --- | --- |
| | This user counts themselves as a best friend of Aleks |

| | |
| --- | --- |
| | This user counts themselves as a best friend of Sage |

| | |
| --- | --- |
| | This user counts themselves as a best friend of Roo |

| | |
| --- | --- |
| | This user counts themselves as a best friend of Shinx |

| | |
| --- | --- |
| | This user counts themselves as a best friend of Beebs |

| | |
| --- | --- |
| | This user counts themselves as a best friend of Computer |

| | |
| --- | --- |
| | This user counts themselves as a best friend of Jayie |

| | |
| --- | --- |
| | This user counts themselves as a best friend of Shane |

| | |
| --- | --- |
| | This user counts themselves as a best friend of Berry |

| | |
| --- | --- |
| | This user counts themselves as a best friend of Hawkey |

| | |
| --- | --- |
| | This user counts themselves as a best friend of Rocket |
Current Goal: 50,000 edits/Chapter Subpages