im straight and i think garrus is dumb
"You can be an angel of mercy, or give in to hate. You can try to buy it, just like it every other careless mistake. How do you justify? I'm mystified by the ways of your heart. With a million lies, the truth will rise to tear you apart."
—

Shinedown

,

How Did You Love?

,

Threat to Survival
---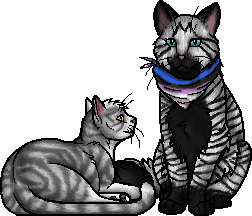 ---
SnowedLightning's Userpage
Hello! My name is Jayce. I'm twenty-two years old, and I live in the central-northeastern area of Pennsylvania. My pronouns are they/them and he/him, and I'm a nonbinary panromantic loser. I am the leader of PCA and the deputy PC. I've made a lot of friends since joining here, but most of all, I'd like to point out David. He's a very nerdy loser and my very best friend.

Some of my interests include Pokémon, Mass Effect, Final Fantasy, and My Little Pony. As far as Warriors is concerned, my favorite characters are Cloudtail, Lightning Tail, and Turtle Tail. I am also fairly fond of Pinestar, Ashfur, and Clear Sky. Sure, I have others, but these are the ones that stand out the most. I also really like SkyClan (both modern and ancient), the Tribe of Rushing Water, and the pre-Tribe ancient cats.
If you need to contact me, the most preferred option is to use my talk page. I also have the following social media platforms or other websites where I can be reached;
Tumblr

 ;; current url is thevakarianeffect

Warrior's Wish forums, v5

 ;; I am a moderator here
Facebook ;; please ask in private
Skype ;; please ask in private
As I am involved with multiple content projects, I have a variety of nominations put to my name. For the project nominations (such as PB, PC, PR, and PW) please check here. If you're looking to view my large amount of chararts, those can be viewed here.
List for those who've asked who some of my more common chararts feature.
Userboxes
Book Ownership

This user has read
all the Warriors Books, and
StarClan honors this user.

This user owns a copy of


Dawn

.

This user owns a copy of


Sunset

.
Likes and Dislikes

This user is a fan of
Sol

This user is a
Tribe supporter
Wikia/Personal Userboxes

This user lives in
the United States

| | |
| --- | --- |
| | This user is 5'3" tall |

| | |
| --- | --- |
| | This user identifies outside the gender binary. |

| | |
| --- | --- |
| 22 | This user is 22 years old |

This user just belongs in
the Tribe

| | |
| --- | --- |
| | This user is a Leo. |

| | |
| --- | --- |
| 鶏 | This user was born in the Year of the Rooster |

| | |
| --- | --- |
| 1337-0 | This user has no idea what 1337 is and/or prefers to contribute using proper words. |

| | |
| --- | --- |
| en-5 | This user is able to contribute with a professional level of English |

| | |
| --- | --- |
| IntS-0 | This user has no interest in Internet slang, or talks like an offline person |

| | |
| --- | --- |
| LE-0 | This individual still maintains a shred of dignity in this insane world by adhering to correct spelling, grammar, punctuation and capitalisation |

| | |
| --- | --- |
| sar | This user is obviously not sarcastic |

| | |
| --- | --- |
| sar-5 | This user is an expert at picking up on sarcasm, as well as making sarcastic remarks |

This user listens to music by
Aerosmith

This user listens to music by
Three Days Grace

This user listens to music by
Journey

This user listens to music by
Daughtry

This user listens to music by
Kacey Musgraves

This user listens to music by
Shinedown

This user listens to music by
Styx

This user listens to music by
Elton John

This user listens to music by
Stone Sour

This user listens to music by
Lynyrd Skynyrd

This user likes
winter

This user likes
snow

This user likes
darkness

This user dislikes
summer

This user dislikes
sunshine

| | |
| --- | --- |
| | This user is a devoted fan of Vic Mignogna |

| | |
| --- | --- |
| | This user is a devoted fan of Crispin Freeman |
Nerds<3

| | |
| --- | --- |
| | This user counts themselves as a best friend of David |

| | |
| --- | --- |
| | This user counts themselves as a best friend of Ev |

| | |
| --- | --- |
| | This user counts themselves as a best friend of Sukant |

| | |
| --- | --- |
| | This user counts themselves as a best friend of Juliana |

| | |
| --- | --- |
| | This user counts themselves as a best friend of Chelsea |

| | |
| --- | --- |
| | This user counts themselves as a best friend of Scarlet |

| | |
| --- | --- |
| | This user counts themselves as a best friend of Splook |

| | |
| --- | --- |
| | This user counts themselves as a best friend of Echo |

| | |
| --- | --- |
| | This user counts themselves as a best friend of Ivy |

| | |
| --- | --- |
| | This user counts themselves as a best friend of Neha |

| | |
| --- | --- |
| | This user counts themselves as a best friend of Spencer |

| | |
| --- | --- |
| | This user counts themselves as a best friend of Sage |

| | |
| --- | --- |
| | This user counts themselves as a best friend of Roo |

| | |
| --- | --- |
| | This user counts themselves as a best friend of Shinx |

| | |
| --- | --- |
| | This user counts themselves as a best friend of Winter |

| | |
| --- | --- |
| | This user counts themselves as a best friend of Jayie |

| | |
| --- | --- |
| | This user counts themselves as a best friend of Berry |

| | |
| --- | --- |
| | This user counts themselves as a best friend of Hawkey |