Apprentice tutorials
First and Foremost
To Become a Warrior...
Everyone always asks how to become a warrior; well, here it is:
Users join as an apprentice.
Apprentices ask questions if need be from experienced users. Before an apprentice puts art up, they should get basic guidelines from one of the tutorials listed below; i.e: art program, shading style, basic instructions etc.
Apprentices may request a mentor.
Journey from apprentice to warrior.

Have to have more than one image approved and be nominated.
Know how to use shading, highlights, blur, etc.
Be able to put in good critiquable comments to others' images.
Eyes and Ears
This chart shows possible pupil and depth placement, however eye style is the artist's choice, and therefore this doesn't have to be followed exactly.
And this chart shows fitting earpinks based on coat color.
Shading Placement
Example Image
We all know that sometime you just can't describe a colour. You want somebody to darken the image, but when they do, the colour looks weird. You want somebody to lighten the earpink, but when they do, the colour is just off. If you really just want to show the artist the colour the earpink or eyes or pelt really should be, you can just use the colour example image. Just save the image to your computer and bucket fill it with the proper colour you want the artist to use, and then reupload the image over the previously mentioned file with what the colour is for, the artist, and the image the colour is for. For example, you could say "Earpink for Wildheart7's Rain (TB)", if you were uploading an earpink colour for my TB image of Rain. Then you would go to (again, just an example) my section on the Tweak Page and put this code: [[:File:Colour.example.png|(insert whatever you want to say here)]] under the section. You'd then say "(insert whatever you want to say here)" or whatever you were going to comment on. Remember, guys, the image shouldn't be used every time you want the artist to darken the stripes or lighten the earpink - just when they really don't get it.
Gimp
Show more
Tools
Tools here
Shading
Layered
Tut here
Smudged/Furry
Tut here
Dodge/Burn
Tut here
Solid Cats
Plain
Tut here
White
Tut here
Black
File:Black cat 1.png - Fill it in with the paint bucket (GIMP) with a dark gray color.
File:Black cat 2.png - Make a new layer. Name it "Shading" and with a size 9 black brush, add the various shading areas in.
File:Black cat 3.png - Blur by going to "Gaussian Blur" and blur it at any rate between 15.0 and 40.0.
File:Black cat 4.png - This is optional. Create a new layer and with white, dot areas that you'd have highlights on.
File:Black cat 5.png - Now, blur it with the same rate you blurred your shading at. Change the layer mode to multiply.
File:Black cat 6.png - Make a new layer. This is for the ear pink. With the path tool, make a triangle. Press enter on your keyboard, then fill it in. Then, press Ctrl + Shift + A. Blur your ear pink.
File:Black cat 7.png - Eyes now. Go on the background layer and put in four pixels. I used blue. For the eye color, I usually put one lighter pixel at the top on the left side, underneath it with a tad darker color, then a really darker color. Then I put two pixels for the pupil and white.
File:Black cat 8.png - On the background layer fill it in with a color you haven't used in your charart before. Then color select it and press delete on your keyboard on every layer. You now have a clean picture, ready to be put for approval.
Bicolor Cats
Plain
Tut here
Black and white
Tut here
Tabbies
Mackerel
Tut here
Classic/Swirled
Tut here
Tabby and white
Tut here
Other
Tut here
Torties
Plain
Tut here
Dark
Tut here
Light
Tut here
Torbie
Tut here
Other Markings
Spotted
Tut here
Flecked/Speckled
Tut here
Mottled/Dappled
Tut here
Streaked
Tut here
Abnormal Lineart
Tut here
Tweaking
Tweaking Shading
Tut here
Changing Colors
Tut here
Blurred Lineart
Blurred lineart is something you'll probably run into a lot when you're tweaking. It's actually a lot easier to fix than you'd think. Just follow these steps and you'll be fine. Sorry if it doesn't make sense at some parts, I'm horrible at explaining things.

Ok, so save the blurred image to your computer and open it up. Use the color select tool to select the black lineart and delete it. You'll be left with just the blurred lineart, not the unblurred.

After you've deleted the lineart, lock the opacity of the layer and start painting over the black parts.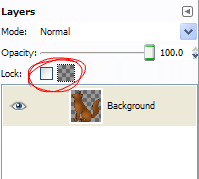 To lock the opacity, go to the layers tab and right above the list of layers, there's a little check box. Click that. It will lock the opacity of the layer, meaning you'll only b able to paint over what was already there. Very useful. It looks like this.

There, no more blurred lineart. The shading's a bit blotchy now, but that can be fixed by simply blurring a bit if you do it right.


Now once the shading's nice and blurred again, open up the lineart, and paste it over the picture you've been editing (make sure the white in the lineart's deleted first, otherwise it will just cover the picture). Fix Any eye and earpink problems that may have come up from blurring and you're done.

Hope that helped. It gets easier the more you do it, so don't get discouraged if you have trouble the first couple times. Just keep trying, you'll get it.
Paleggy Ship it 04:00, March 13, 2012 (UTC)
Floating Lineart
Tut here
Changing Lineart
Tut here
Videos
Vids here
Pixlr
Show more
Tools
Tools here
Shading
Layered
Tut here
Smudged/Furry
Tut here
Dodge/Burn
Tut here
Solid Cats
Plain
Tut here
White
Tut here
Black
Tut here
Bicolor Cats
Plain
Tut here
Black and white
Tut here
Tabbies
Mackerel
Tut here
Classic/Swirled
Tut here
Tabby and white
Tut here
Other
Tut here
Torties
Plain
Tut here
Dark
Tut here
Light
Tut here
Torbie
Tut here
Other Markings
Spotted
Tut here
Flecked/Speckled
Tut here
Mottled/Dappled
Tut here
Streaked
Tut here
Abnormal Lineart
Tut here
Tweaking
Tweaking Shading
Tut here
Changing Colors
Tut here
Blurred Lineart
Tut here
Floating Lineart
Tut here
Changing Lineart
Tut here
Videos
Vids here
Photoshop
Show more
Tools
Tools here
Shading
Layered
Tut here
Smudged/Furry
Tut here
Dodge/Burn
Tut here
Solid Cats
Plain

White
Tut here
Black
Tut here
Bicolor Cats
Plain
Tut here
Black and white
Tut here
Tabbies
Mackerel
Tut here
Classic/Swirled
Tut here
Tabby and white
Tut here
Other
Tut here
Torties
Plain
Tut here
Dark
Tut here
Light
Tut here
Torbie
Tut here
Other Markings
Spotted
Tut here
Flecked/Speckled
Tut here
Mottled/Dappled
Tut here
Streaked
Tut here
Abnormal Lineart
Tut here
Tweaking
Tweaking Shading
Tut here
Changing Colors
Tut here
Blurred Lineart
Tut here
Floating Lineart
Tut here
Changing Lineart
Tut here
Videos
Vids here
Sumopaint
Show more
Tools
Tools here
Shading
Layered
Tut here
Smudged/Furry
Tut here
Dodge/Burn
Tut here
Solid Cats
Plain
Tut here
White
Tut here
Black
Tut here
Bicolor Cats
Plain
Tut here
Black and white
Tut here
Tabbies
Mackerel
Tut here
Classic/Swirled
Tut here
Tabby and white
Tut here
Other
Tut here
Torties
Plain
Tut here
Dark
Tut here
Light
Tut here
Torbie
Tut here
Other Markings
Spotted
Tut here
Flecked/Speckled
Tut here
Mottled/Dappled
Tut here
Streaked
Tut here
Abnormal Lineart
Tut here
Tweaking
Tweaking Shading
Tut here
Changing Colors
Tut here
Blurred Lineart
Tut here
Floating Lineart
Tut here
Changing Lineart
Tut here
Videos
Vids here
Paint.net
Show more
Tools
Tools here
Shading
Layered
Tut here
Smudged/Furry
Tut here
Dodge/Burn
Tut here
Solid Cats
Plain
Tut here
White
Tut here
Black
Tut here
Bicolor Cats
Plain
Tut here
Black and white
Tut here
Tabbies
Mackerel
Tut here
Classic/Swirled
Tut here
Tabby and white
Tut here
Other
Tut here
Torties
Plain
Tut here
Dark
Tut here
Light
Tut here
Torbie
Tut here
Other Markings
Spotted
Tut here
Flecked/Speckled
Tut here
Mottled/Dappled
Tut here
Streaked
Tut here
Abnormal Lineart
Tut here
Tweaking
Tweaking Shading
Tut here
Changing Colors
Tut here
Blurred Lineart
Tut here
Floating Lineart
Tut here
Changing Lineart
Tut here
Videos
Vids here