Warrior's Refuge was released 26 December 2007 and is the second book in the The Lost Warrior Arc.
Graystripe and his companion Millie are on a quest to find the Clans, and are currently approaching Highstones. While heading towards them, they travel through a cornfield in their path. A huge monster begins to pursue them, and Millie and Graystripe are separated as they flee from it.
Graystripe manages to find his way to a nearby barn where he meets a few cats living there. They are Husker, Splash, and her sister Moss with her four kits. Graystripe asks for them to help Millie, and after some discussion, they agree. The barn cats soon find her, but the tabby she-cat's eyes are scratched by the corn leaves. Husker insists that the travelers need to leave, as they've already done their part by helping. Splash counters that Graystripe and Millie need a place to stay while her eyes heal. Husker explains that they used to live in the Twoleg nest, with two elderly Twolegs. However, a new family moved in and didn't like the cats, so they'd been living in the barn ever since.
The next day, Graystripe gets cornered by some dogs. Millie saves him, by speaking a few quick words of dog language to make them go away. The barn cats are amazed by this, and ask for the she-cat to teach them. She agrees, and the dogs are no longer a problem for them. A few days after, Graystripe and Millie save a young Twoleg from falling in the river. The parents of the young child are grateful, and don't chase them away anymore. Graystripe shows the Twolegs the other barn cats, and they are now accepted by them.
The two travelers continue home, but are greeted with a shock. The forest has been chopped down, leaving everything destroyed and every cat gone.
Vigil
A vigil is when a
cat
stays awake the whole night, either to respect deceased individuals, or to guard the
camp
the night after an
apprentice
becomes a
warrior
.
In the Clans, a vigil for the dead is when the cats closest to the cat who died sit with them throughout the night and share tongues with them one last time before the are buried. Typically, the Clan's elders bury the dead in the morning.
New warriors also have a vigil as required by the
Warrior Code
. They stay awake and guard the camp through the night. During their vigil, the new warriors are forbidden to talk.
Ottersplash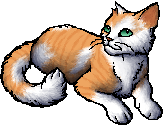 Ottersplash
is a sleek, pale ginger she-cat with white patches and a torn ear. She is a
warrior
of
RiverClan
.
In Tallstar's Revenge, Ottersplash is part of the patrol that meets Talltail and Barkface at the RiverClan border. Ottersplash curls her lip and orders them to get back into the river. Barkface explains they need Brambleberry's help and Ottersplash doesn't initially believe them, but eventually takes them to camp. She helps the two WindClan cats back across the river, still acting suspicious and snapping at Talltail.
More Coming Soon

Erica Sussman
Erica Sussman
is an editor at HarperCollins Children's Books, where she acquires and edits the teen and tween departments. She is the editor of the
Warriors
series by Erin Hunter, , and her other works include editing books by Joseph Bruchac, Jill Kargman, and Carrie Karasyov. Erica is interested in middle grade, young adult, and fantasy books.
She taught in a private school at Brooklyn, and her best friend advised she take a job in children's publishing. When Erica left the interview, she knew that this would be the best career for her. Erica adds that she tries not to be nit-picky, but knows right away if she likes a manuscript. Erica tells an interviewer that the Baby-Sitters Club books were what caused her love of reading, and she is also a huge Harry Potter fan.
Ad blocker interference detected!
Wikia is a free-to-use site that makes money from advertising. We have a modified experience for viewers using ad blockers

Wikia is not accessible if you've made further modifications. Remove the custom ad blocker rule(s) and the page will load as expected.