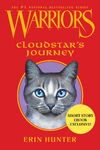 Cloudstar's Journey was released 29 January 2013 and is a Novellas.
Cloudstar, leader of SkyClan, has watched over his Clanmates at the edge of the forest for many long seasons. He is out training some apprentices when he realizes Twolegs are encroaching on SkyClan's land and SkyClan is in danger of being driven away. Many cats are injured as a result of the damage to their land, and every cat goes hungry. Cloudstar is stressed out about this, but finds comfort in knowing his mate, Birdflight, is expecting his kits.
Cloudstar devises a plan to reclaim some territory from ThunderClan that was once theirs. He rallies SkyClan, and brings every healthy cat on the battle patrol. Even though the cats fight bravely, ThunderClan's warriors are able to drive the other cats away. SkyClan becomes more and more desperate, with the fresh-kill pile shrinking daily. Fawnstep, the SkyClan medicine cat, warns of bad things to come in the near future.
Cloudstar is forced to turn to the other
Clans
for help at the following
Gathering
. However, one by one, the four leaders decline to help SkyClan. Cloudstar is shocked by this, and declares that
StarClan
has abandoned him. He leads his Clan out of
Fourtrees
, on a long journey.
Whitethroat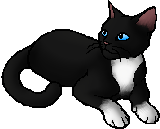 Whitethroat
is a small black tom with a white chest and paws. He is a
warrior
of modern
ShadowClan
.
In Rising Storm, Whitethroat and Littlecloud come to ThunderClan and beg for help. ShadowClan is overcome with sickness#Rat-Borne Infections from the Carrionplace and their medicine cat Runningnose cannot save them. They are sent back however, since ThunderClan doesn't want to be infected.
Cinderpelt takes pity on the two cats and keeps them on ThunderClan territory and nurses them back to health. Fireheart finds out and demands for them to leave but Whitethroat and Littlecloud reveal the ShadowClan deputy Cinderfur has died and Nightstar is very ill too. They are scared that if their leader dies, ShadowClan will be weak with no one to take his place. Fireheart hesitantly lets them stay longer.
Later on, he is beside Runningwind's body and it's first assumed that he killed him. He doesn't want to fight so flees onto the Thunderpath and is run over by a monster. Whitethroat's eyes glaze over as he sees Tigerclaw before dying. It's revealed that Tigerclaw killed Runningwind, not Whitethroat and the ShadowClan warrior was just at the wrong place at the wrong time. Fireheart leaves his body in ShadowClan for his Clanmates to find, which they do.
In A Dangerous Path, it's revealed that Littlecloud returned to ShadowClan but Whitethroat didn't because he feared he'd catch the illness again. The next thing ShadowClan knows is that they found his body next to the Thunderpath.
In Tigerclaw's Fury, Tigerclaw suggests hunting in ThunderClan but Whitethroat protests. Clawface states the rumors he and Littlecloud ran to ThunderClan to avoid the sickness so Tigerclaw decides to keep an eye on the tom. ShadowClan attacks a ThunderClan patrol and kill Runningwind, and Whitethroat protests the unfairness. He stays behind when the patrol leaves, to be found by Fireheart and eventually killed by a monster.
The Ultimate Guide briefly mentions how Whitethroat was cared for by Cinderpelt after seeking refuge. They fled ShadowClan after the sickness spread and were protected from enemy patrols. It did not last long as they were eventually chased back to ShadowClan.

Ray Shappell
Ray Shappell
was a graphic designer at HarperCollins Children's Books and is now currently employed at RandomHouse publishing, while occasionally working as a freelance artist.
Ray Shappell was born and raised in Sewell, New Jersey. He moved to Brooklyn to pursue a degree in art and design at Pratt Institute. Ray received his Bachelors of Fine Arts in communication design May 2004 from the Pratt Institute, but continued to occasionally teach at there for the next two years.
Shappell began working freelance in 2005 and has continued since. Between February and December of 2006, he worked for McGarryBowen where he worked with clients such as Verizon, Chase, Reebok, Wall Street Journal, and Disney. Ray then worked at HarperCollins Publishers as a graphic designer specializing in book design. From there, he began work at RandomHouse in the children's book jacket department.
Ad blocker interference detected!
Wikia is a free-to-use site that makes money from advertising. We have a modified experience for viewers using ad blockers

Wikia is not accessible if you've made further modifications. Remove the custom ad blocker rule(s) and the page will load as expected.