Escape from the Forest was released 23 December 2008 and is the second book in the Tigerstar and Sasha Arc.
After learning Tigerstar's plans to take over the forest, which include recruiting BloodClan to help him and murdering half-Clan cats, Sasha rejects Tigerstar's offer to let her join ShadowClan. Tigerstar tries to convince her to stay, but Sasha, opposed to his use of violence and seeing he cares more about his ambitions than his love for her, refuses.
Although heartbroken about leaving Tigerstar, Sasha sets off to find her previous owner, Ken. She searches at the Twoleg nest where she once lived and throughout Twolegplace, but is unable to locate him. She instead ends up wandering onto a tour boat, but the Captain of the boat at first shoos her off. However, he is much more welcoming to her when she attracts customers who want to see the ship's cat. The Captain decides to take her in and names her Brownie.
The Captain is happy having Sasha around, and his boat gets much more business from people who want to see "Brownie the Famous Ship's Cat". Sasha also befriends another cat on the boat,
Patch
. When leaf-bare comes and the river freezes over, the boat season is over, and the Captain takes Patch away with him. Sasha, meanwhile, decides to go off by herself because she knows she is going to have Tigerstar's kits, and she wants those kits to be born in the forest.

Journey to Find SkyClan (FQ)
The Journey to Find SkyClan took place in
Firestar's Quest
, when
Firestar
and
Sandstorm
temporarily left
ThunderClan
to travel to the
Gorge
and rebuild the lost 5th
Clan
of the
forest
,
SkyClan
.
Many moons ago, SkyClan had been driven out of their territory due to Twolegs destroying their home. None of the other Clans were willing to give some of their territory to SkyClan, so they were forced to leave the forest and find a new home; soon after, the Clan separated.
After the Battle Against BloodClan, Firestar receives a message from Cloudstar, an ancient SkyClan leader, asking him to rebuild the lost Clan. The ThunderClan leader and his mate, Sandstorm, make the journey to the gorge where SkyClan moved to, and they start to rebuild the Clan by recruiting kittypets, loners, and rogues as members. Soon the rebuilt SkyClan begins to function like a normal Clan. Not long after, they have to fight against rats who are attacking their patrols, and SkyClan wins the battle. After that, Leafstar becomes the Clan leader and receives her nine lives, naming Sharpclaw as her deputy and Echosong as her medicine cat. With SkyClan rebuilt and working as a Clan once again, Firestar and Sandstorm go back to the forest.

Dappletail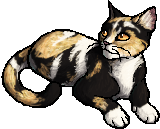 Dappletail
is a broad-shouldered, dappled tortoiseshell-and-white she-cat with white patches, a patchy, thick, shiny pelt, and a muzzle gray with age. She has amber eyes. She is a
Warrior
of
ThunderClan
.
Coming Soon

Official Sites
The Official Sites
consist of several sites that are considered canon for
Warriors
.
The official Warriors site, warriorcats.com, is maintained by official forces. On the site, you will see an introduction to the authors, games and videos, news, a family tree, maps, and trivia. This site also has a German variation of it.
ReadingWarriors.com is a site devoted to helping kids read, and forums.warriorcats.com is the official message board. Harper Collins, the publisher of the books, also has their own website, harpercollins.com. Although it is dedicated to other books they published, they have browse inside of each Warriors book.
Ad blocker interference detected!
Wikia is a free-to-use site that makes money from advertising. We have a modified experience for viewers using ad blockers

Wikia is not accessible if you've made further modifications. Remove the custom ad blocker rule(s) and the page will load as expected.