Escape from the Forest was released 23 December 2008 and is the second book in the Tigerstar and Sasha Arc.
After learning Tigerstar's plans to take over the forest, which include recruiting BloodClan to help him and murdering half-Clan cats, Sasha rejects Tigerstar's offer to let her join ShadowClan. Tigerstar tries to convince her to stay, but Sasha, opposed to his use of violence and seeing he cares more about his ambitions than his love for her, refuses.
Although heartbroken about leaving Tigerstar, Sasha sets off to find her previous owner, Ken. She searches at the Twoleg nest where she once lived and throughout Twolegplace, but is unable to locate him. She instead ends up wandering onto a tour boat, but the Captain of the boat at first shoos her off. However, he is much more welcoming to her when she attracts customers who want to see the ship's cat. The Captain decides to take her in and names her Brownie.
The Captain is happy having Sasha around, and his boat gets much more business from people who want to see "Brownie the Famous Ship's Cat". Sasha also befriends another cat on the boat,
Patch
. When leaf-bare comes and the river freezes over, the boat season is over, and the Captain takes Patch away with him. Sasha, meanwhile, decides to go off by herself because she knows she is going to have Tigerstar's kits, and she wants those kits to be born in the forest.


Ambermoon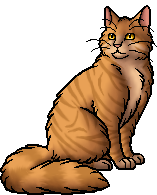 Ambermoon
is a small, pale ginger she-cat with amber eyes. She is a
Warrior
of
ThunderClan
.
Amberkit and her brothers, Dewkit and Snowkit are born to Brightheart and Cloudtail. Their birth is poorly timed however, as the Great Battle against the Dark Forest is nearing. While Brightheart is being trained, Lionblaze feints an attack on them, causing Brightheart to strike back. Amberkit and her siblings peep out of their nest to stare at their mother. During the battle, Amberkit and her littermates are clutched against Brightheart before being pushed deeper into their nest with moss.
After the battle, Ferncloud is lying on the ground wit her eyes closed, having been killed in the battle. Amberkit asks why is asleep and Dewkit tells her that she is just tired, saying she is silly. He reassures her that Dustpelt will wake her. Amberkit then exclaims that Ferncloud is awake, seeing her spirit rise from her body to join StarClan.
Coming Soon

Ad blocker interference detected!
Wikia is a free-to-use site that makes money from advertising. We have a modified experience for viewers using ad blockers

Wikia is not accessible if you've made further modifications. Remove the custom ad blocker rule(s) and the page will load as expected.