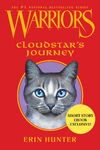 Cloudstar's Journey was released 29 January 2013 and is a Novellas.
Cloudstar, leader of SkyClan, has watched over his Clanmates at the edge of the forest for many long seasons. He is out training some apprentices when he realizes Twolegs are encroaching on SkyClan's land and SkyClan is in danger of being driven away. Many cats are injured as a result of the damage to their land, and every cat goes hungry. Cloudstar is stressed out about this, but finds comfort in knowing his mate, Birdflight, is expecting his kits.
Cloudstar devises a plan to reclaim some territory from ThunderClan that was once theirs. He rallies SkyClan, and brings every healthy cat on the battle patrol. Even though the cats fight bravely, ThunderClan's warriors are able to drive the other cats away. SkyClan becomes more and more desperate, with the fresh-kill pile shrinking daily. Fawnstep, the SkyClan medicine cat, warns of bad things to come in the near future.
Cloudstar is forced to turn to the other
Clans
for help at the following
Gathering
. However, one by one, the four leaders decline to help SkyClan. Cloudstar is shocked by this, and declares that
StarClan
has abandoned him. He leads his Clan out of
Fourtrees
, on a long journey.
The Forest Territories
The Forest Territories is a region where the five
Warrior
Clans
formerly lived. The region consists of a forest, hills, grassland, and marshes. After the
Great Battle
, the cats living in the region divided into 5 separate groups, and each claimed the territory that suited them best. When
Twolegs
built a
Twolegplace
,
SkyClan
was driven out of their home. Soon after, the remaining four Clans were also forced to leave when Twolegs began destroying more of their territory, driving away prey, and threatening their safety.
Rileypool
Rileypool
is a pale, dove-gray tabby tom with dark gray stripes, piercing blue eyes, a dark gray ear, broad shoulders and sturdy legs. He is a
warrior
of modern
SkyClan
.
Rileypool was born a kittypet to Violet with Lulu, Patch and Bella. Riley is taken to Barley's barn to meet him and Ravenpaw. He constantly attacks Ravenpaw who is patient with him. The loner also notes he is a lot like Graystripe. Moons later, Riley returns with Bella and Violet since the siblings insisted to come see them. They are curious about everything and seem to want to be trained to become warriors, since Ravenpaw was formerly a Clan cat.
Eventually, Ravenpaw decides to take Riley and Bella to SkyClan to become warriors.

Don Hudson
Don Hudson
is the comic artist who made the artwork for the
Tigerstar and Sasha Arc
of
Warriors
Manga.
He currently resides in California, and works as a comic book creator and storyboard artist who enjoys long hours at the drawing board. Although he misses it, Don Hudson gave up playing WARCRAFT five years ago because he felt the need to focus on his work and devote more attention to his fiancé.
Ad blocker interference detected!
Wikia is a free-to-use site that makes money from advertising. We have a modified experience for viewers using ad blockers

Wikia is not accessible if you've made further modifications. Remove the custom ad blocker rule(s) and the page will load as expected.