Escape from the Forest was released 23 December 2008 and is the second book in the Tigerstar and Sasha Arc.
After learning Tigerstar's plans to take over the forest, which include recruiting BloodClan to help him and murdering half-Clan cats, Sasha rejects Tigerstar's offer to let her join ShadowClan. Tigerstar tries to convince her to stay, but Sasha, opposed to his use of violence and seeing he cares more about his ambitions than his love for her, refuses.
Although heartbroken about leaving Tigerstar, Sasha sets off to find her previous owner, Ken. She searches at the Twoleg nest where she once lived and throughout Twolegplace, but is unable to locate him. She instead ends up wandering onto a tour boat, but the Captain of the boat at first shoos her off. However, he is much more welcoming to her when she attracts customers who want to see the ship's cat. The Captain decides to take her in and names her Brownie.
The Captain is happy having Sasha around, and his boat gets much more business from people who want to see "Brownie the Famous Ship's Cat". Sasha also befriends another cat on the boat,
Patch
. When leaf-bare comes and the river freezes over, the boat season is over, and the Captain takes Patch away with him. Sasha, meanwhile, decides to go off by herself because she knows she is going to have Tigerstar's kits, and she wants those kits to be born in the forest.


Tawnypelt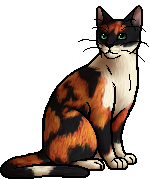 Tawnypelt
is a lean, mottled, pale tortoiseshell she-cat with green eyes. She is a
Warrior
of
ShadowClan
.
Tawnykit is born to Goldenflower and Tigerclaw of ThunderClan alongside Bramblekit. Due to her father's crimes, she comes under scrutiny because of her blood relations. As an apprentice, Tawnypaw is driven to the brink from Smallear's comment and takes up the now leader of ShadowClan, Tigerstar's offer to join ShadowClan. Although Tigerstar is eventually killed and the battle against BloodClan is won, Tawnypaw remains with ShadowClan instead of rejoining ThunderClan and is given the warrior name Tawnypelt.
Tawnypelt, along with one cat of every other Clan, recieves a dream from StarClan, telling them to "Listen to what midnight tells you". At first, the cats meet up at Fourtrees and wait for midnight. When this doesn't work, they begin a journey together to the Sun-drown-place. On the way, Tawnypelt is bitten by a rat and is slowed by a severe infection. The group manages to find burdock root and temporarily sooth her [Diseases_and_Injuries#Wounds|wound]].
The group finds StarClan's prophecy, Midnight the badger, and is told of the destruction of the forest. Although she receives more burdock root from the badger, he limp grows worse as the group travels through the mountains and meet the Tribe of Rushing Water. Although they wish to continue their journey, the cats take the Tribe's generous offer to stay so Tawnypelt may be able to heal properly.
Tawnypelt helps the group through their troubles in the mountain. First being driven out of the Tribe when they keep Stormfur, rescuing the tom before returning again to kill off Sharptooth. This comes at a cost, as Feathertail is killed as well. Tawnypelt grieves for her, despite belonging to different Clans. Grief-stricken, the cats finally make it back to the Clans where they see the destruction of the forest is already commencing. Tawnypelt manages to persuade her leader Blackstar to leave with the other Clans, and helps lead her Clan to their new home. At the lake territories, she explores around the lake with the cats she journeyed with in finding a good territory and camp for her Clan.
While the Clans are still settling around the lake, Tawnypelt is visited in her dreams by Tigerstar. He offers to make her become a 'true' warrior, but Tawnypelt refuses. She sees through Tigerstar's scheme, and knows he cannot give her what she truly wants and advises Brambleclaw the same.
Tawnypelt has three kits with Rowanclaw: Tigerkit, Flamekit and Dawnkit. Although she does briefly leave them to journey to the mountains again, she returns for the rest of their kithood. However, when they are just made apprentices and Sol has persuaded Blackstar to give up on the warrior code, Tawnypelt takes her kits to ThunderClan until Blackstar resumes his faith and returns back to obeying the warrior code. Eventually, Tawnypelt's kits Tigerheart and Dawnpelt become warriors while Flametail becomes a medicine cat. However, Flametail is killed but Dawnpelt eventually has her own kits.
During the Great Storm, Tawnypelt's Clan comes into trouble with kittypets and due to the lack of territory to hunt, they are too weak to fight them. Tawnypelt swallows her pride and confesses to her brother, now Bramblestar, about the problem. She doesn't get the chance to ask for help, but Bramblestar helps ShadowClan anyway. Her mate, Rowanstar, figures out that she told ThunderClan about the kittypet situation and gets into trouble. However, when ShadowClan is threatened again with badgers, Tawnypelt asks for help from Bramblestar. The ThunderClan leader does so in loyalty to his sister.
When Darktail takes over ShadowClan and they become the Kin, Tawnypelt leaves with Tigerheart and Rowanstar and temporarily joins ThunderClan. She helps the Clans in driving out Darktail, and returns to her Clan after Darktail's death. The Clan have lost their faith in their leader and when Scorchfur calls Rowanstar weak, Tawnypelt attempts to strike him. Scorchfur fights back and slices her eye. However, it is only a temporary wound and she doesn't suffer from permanent blindness. Rowanstar's reign becomes weaker, until he eventually joins StarClan. When his deputy Tigerheart returns from his journey, Tawnypelt eagerly welcomes her son back as the new leader of ShadowClan.

Ad blocker interference detected!
Wikia is a free-to-use site that makes money from advertising. We have a modified experience for viewers using ad blockers

Wikia is not accessible if you've made further modifications. Remove the custom ad blocker rule(s) and the page will load as expected.