Home
Talk

4
1,889pages on
this wiki

The Lost Warrior
is the first book of the
Lost Warrior
arc. The author is
Dan Jolley
, and it was published on April 24th, 2007. The book is written from the point of view of
Graystripe
,
Firestar's
friend, and the
deputy
of
ThunderClan
. This story explains Graystripe's time when he was captured by
Twolegs
.
When Graystripe tries to rescue the trapped
ThunderClan
and rogue cats from the Twolegs, he ends up getting taken by them.
He lives a
kittypet
life, resenting that he was slowly turning into a soft kittypet. He soon meets another kittypet,
Millie
, whom he befriends, and teaches her about the clans and his old home, and teaches her the skills of a warrior.
But soon after, they run into hostile kittypets, and Graystripe and Millie have to face them, and soon realizes how much he misses being a Clan cat after the battle, and has a dream of his old mate,
Silverstream
, who urges him to find ThunderClan, and explains that he already has a companion.

Kittypet is the Clan term for housecats that Twolegs keep and care for. Kittypets are looked after and pampered by Twolegs. They are often plump, sometimes fat, and well-fed. Twolegs feed them several times daily with dry, tasteless pellets that look like rabbit droppings and soft slop, according to the Clan cats. They are soft-muscled and know very little about the arts of fighting and hunting At a certain age, they are taken to be neutered or spayed by the veterinarian, who is otherwise known to the Clan cats as the Cutter. After this visit, they usually become lazy and have no desire to do many things anymore.
A kittypet life is scorned by Clan cats, and it is against the Warrior Code of the Clans. Some kittypets have joined Clans, though, most notably Firestar, Purdy, Cloudtail, Daisy and Millie. Most Clan-born cats do not trust kittypets that have become warriors. The term kittypet is also used as an insult by Clan cats.

Willowshine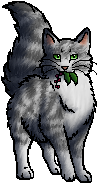 Willowshine
is a small, sleek, lithe, dark gray tabby she-cat with bright green eyes, a soft pelt and slender paws. She is the medicine cat
apprentice
of
RiverClan
, she was born to
Mosspelt
. At a young age Willowkit showed interest in
medicine
, helping RiverClan's medicine cat,
Mothwing
, and
ThunderClan's
medicine cat
,
Leafpool
, with a deadly epidemic that struck RiverClan by three kits drinking some toxic liquid. Mothwing, later, takes Willowkit to be her apprentice. Willowkit has now taken the name Willowpaw.
Leafpool wonders how Wilowpaw will ever become a medicine cat if her mentor doesn't believe in StarClan. Feathertail, a RiverClan warrior who died before the Great Journey, appears to Leafpool in a dream, telling her that she would have to teach Willowpaw about StarClan, due to Mothwing's disbelief.
Willowpaw gains her full medicine cat name, Willowshine, at a visit to the
Moonpool
. When
Jayfeather
is accused of murdering
Flametail
,
ShadowClan's
medicine cat apprentice, Willowshine is seen to agree with
Mistystar
and
Onestar
when they suggest that Jayfeater's medicine cat duties be suspended until there is proof that Jayfeather didn't kill Flametail. Later, Flametail tells the other medicine cats, on a visit to StarClan, that Jayfeather did not kill him. After it is discovered that
Place of No Stars
rogues are visiting each Clans' territory, all of the medicine cats, including Willowshine, agree to bring their leaders to the island to further discuss the problem.