Escape from the Forest was released 23 December 2008 and is the second book in the Tigerstar and Sasha Arc.
After learning Tigerstar's plans to take over the forest, which include recruiting BloodClan to help him and murdering half-Clan cats, Sasha rejects Tigerstar's offer to let her join ShadowClan. Tigerstar tries to convince her to stay, but Sasha, opposed to his use of violence and seeing he cares more about his ambitions than his love for her, refuses.
Although heartbroken about leaving Tigerstar, Sasha sets off to find her previous owner, Ken. She searches at the Twoleg nest where she once lived and throughout Twolegplace, but is unable to locate him. She instead ends up wandering onto a tour boat, but the Captain of the boat at first shoos her off. However, he is much more welcoming to her when she attracts customers who want to see the ship's cat. The Captain decides to take her in and names her Brownie.
The Captain is happy having Sasha around, and his boat gets much more business from people who want to see "Brownie the Famous Ship's Cat". Sasha also befriends another cat on the boat,
Patch
. When leaf-bare comes and the river freezes over, the boat season is over, and the Captain takes Patch away with him. Sasha, meanwhile, decides to go off by herself because she knows she is going to have Tigerstar's kits, and she wants those kits to be born in the forest.

Stick of the Fallen
The Stick of the Fallen is a
ThunderClan
memorial created by
Jayfeather
to remember the ThunderClan
cats
who were killed in the
Great Battle
. Every newly trained
apprentice
is required to learn the names of each of their fallen Clanmates.
It is a bark-stripped branch with six claw marks on it. The marks represent the cats who died in or from the Battle: Mousefur, Hollyleaf, Foxleap, Ferncloud, Sorreltail, and Firestar. There is a big mark up at the top, which represents Firestar, who was ThunderClan's former leader. The Stick of the Fallen is kept propped against the cliff below the Highledge.
The other Clans also have ways of remembering the Clanmates they lost from the Battle:
WindClan remembers their fallen with a pile of stones that is visited by a small patrol each day, to remember and be thankful for their sacrifice.
ShadowClan lists the names of their dead at night with the first call of an owl.

Yellowfang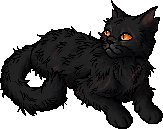 Yellowfang
is a skinny, battle-scarred, grizzled, dark gray she-cat with wide-set, rheumy,[24] bright orange eyes. She has a broad, flattened face, a snub nose, bony haunches, and long, dull, patchy, thick, and matted fur. Her ears are torn, and she has cracked, broken, blackened, yellow teeth. She is a member of
StarClan
.
She is born to Brightflower and Brackenfoot alongside Nutkit and Rowankit.
More Coming Soon

Allen Douglas
Allen Douglas
is an illustrator who has worked for HarperCollins.
Allen was educated at Syracuse University and has been freelancing as an artist for twenty years. His artwork has been recognized by many prominent juried illustration competitions including Spectrum: The Best in Contemporary Fantastic Art, the Society of Illustrators of New York and Los Angeles, Art Renewal Center, Ballistic Publishing and Step-By-Step Graphics. His studio is located in Rochester, NY on the southern shores of Lake Ontario.
Allen is credited for all of the Omen of the Stars and Dawn of the Clans arcs of Warriors books.