Mistystar's Omen was released 11 September 2012 and is the second e-book novella released by HarperCollins, as part of The Untold Stories.
Leopardstar and Mistyfoot sit at the shore of the lake, after the drought. The fish haven't returned, leaving RiverClan weak still. They head back to camp, but Leopardstar falls, and Mothwing comes to support her. The leader is brought back to camp, and assured that she'll be okay. However, to Mistyfoot's surprise, Leopardstar insists that she will be joining StarClan soon. The deputy protests, but her superior is shocked, knowing that she allowed Stonefur's death. Mistyfoot is brought back in her memories, and Leopardstar says that she had never deserved her forgiveness. The leader also notes that she would have been proud to call Mistyfoot her daughter, and she is lost for words. When Mistyfoot wakes again, Mothwing informs her that Leopardstar is dead.
Mistyfoot tells the Clan that Leopardstar has died, and puts off her nine-lives ceremony for a day. Willowshine asks if she'd would like her to go along, but the leader says that would normally be Mothwing's job. Mistyfoot gently refuses her offer, saying that it is for her mentor to do. Willowshine accepts her answer, and wishes her luck for tomorrow. Mistyfoot goes back to camp and appoints Reedwhisker as deputy, though some cats are upset with that. Afterwards, the cats prepare Leopardstar for burial, and send their last farewells. Mistyfoot promises Leopardstar that she will try her best, and Stonefur appears wishing his sister good luck. Mistyfoot persuades Mothwing to go the Moonpool with her, and she dozes off after soon after lapping the starlit water in the Moonpool. She is given her nine lives, and named Mistystar.
As Mistystar is plunged back into reality, she realizes that Mothwing wasn't with her at the ceremony. Mothwing confirms it, saying that she will always visit StarClan alone. Mistystar is in extreme dismay as she realizes her medicine cat does not believe in StarClan. Mistystar exclaims that Mothwing has been their medicine cat for so long, and asks how she doesn't believe in them. The golden tabby is at first hurt, but then calmly tells Mistystar that she has her beliefs, and Mothwing has hers. Mistystar is still puzzled, but decides to travel home. Mothwing sadly apologizes to her, but Mistystar has nothing to say.
The Clan cats bury Leopardstar. Afterwards, Mistystar asks Willowshine how her training is going, specifically spiritual side. The leader suddenly realizes that Willowshine knows about Mothwing's disbelief, but Willowshine assures Mistystar she can take care of the StarClan part of her duties. Mistystar shakes her head, saying Willowshine is too young, and next goes to encounter Mothwing. The leader strips her of her medicine cat duties, and Mothwing is outraged. She argues with Mistystar, but to no avail. The leader dismisses Mothwing and tells her to give her some time to think about this.
A patrol come back from hunting - but they have nothing to contribute to the fresh-kill pile. Mistystar is shocked, and Mallownose apologizes. The leader decides that they'll keep looking for other places to find food, and leads a hunting patrol. Pebblefoot accidentally chases a squirrel into WindClan territory, is met by Antpelt. The WindClan warrior screeches at Pebblefoot, calling him a trespasser and a prey stealer. Mistystar defends her warrior, they apologize to Ashfoot. Antpelt declares that the squirrel is theirs, and threatens the RiverClan cats, and they're are sent away. Three sunrises later, Mistystar deems Willowshine the sole medicine cat of RiverClan.
Mistystar is alerted that Hollowpaw and Rushpaw are in trouble. They rescue the apprentices from two dogs, but Reedwhisker is badly wounded in the process. They bring him back to camp, and Willowshine tends to him. Mistystar walks out of camp, encountering Stonefur. The gray tom tells Mistystar that RiverClan has another medicine cat, and she sees a moth - an omen for her to trust Mothwing's instincts. Mistystar goes to find Mothwing, confesses to her that she made a mistake. She tells her about the omen with the moth, and the golden tabby asks that they respect each other's beliefs. Mistystar complies, and wonders who'd have thought that a moth had have so much to teach her.

Fighting Techniques
The Warriors
Clans
often need to use fighting techniques in
battles
against other Clans and when fighting other threats like
rogues
or
badgers
. Some common fighting techniques taught to
warriors
are:
Belly Rake
Front Paw Blow
Front Paw Strike/Forepaw Slash
Killing Bite
Leap-and-hold
Playing Dead
Tail Yank
Teeth Grip
Half-Turn Belly Rake
Duck and Twist

Yellowfang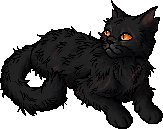 Yellowfang
is a skinny, battle-scarred, grizzled, dark gray she-cat with wide-set, rheumy,[24] bright orange eyes. She has a broad, flattened face, a snub nose, bony haunches, and long, dull, patchy, thick, and matted fur. Her ears are torn, and she has cracked, broken, blackened, yellow teeth. She is a member of
StarClan
.
She is born to Brightflower and Brackenfoot alongside Nutkit and Rowankit.
More Coming Soon

Erin Hunter Answers Your Questions Summer 2011
Erin Hunter Answers Your Questions Summer 2011
is when
Victoria Holmes
answered fans' questions on the Warriors Official Forum, July 27, 2011. It follows the model of the Erins' answering fan questions in Fall 2010, as well.
Vicky answered questions on all of the Clans, and other affiliations. The groups included were:
Vicky also touched on other aspects, such as:
The Book
Clan Life
Warriors
Places
The Authors